BJHS

eighth-grade football team remains unbeaten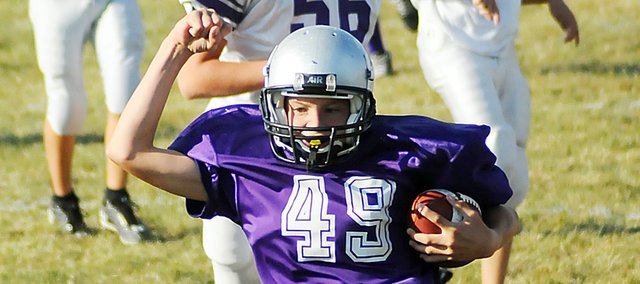 The Baldwin Junior High School eighth-grade varsity football team remained undefeated Tuesday after a 16-12 victory over Louisburg.
BJHS led 16-0 before Louisburg scored 12 answered. Cole Wolff had the winning touchdown as he returned an interception for a score.
The Bulldogs' previous wins were against Wheatridge (34-6), Paola (14-0), Eudora (40-0) and Pioneer Ridge (26-8). The Katzer twins, Joel and Jake, have scored the majority of the touchdowns for the Bulldogs.
"Our program goals for both teams are to improve from week to week," coach Bench Currie said. "We are making some improvements but still need to continue working to get better."
The seventh-grade varsity team is 0-4 this fall. The Bulldogs have lost 14-6, 20-8, 38-22 and 8-6.
Both teams will play Spring Hill on Tuesday.