BHS

volleyball falls to Wildcats; Bulldogs will host 'Dig Pink Night' on Tuesday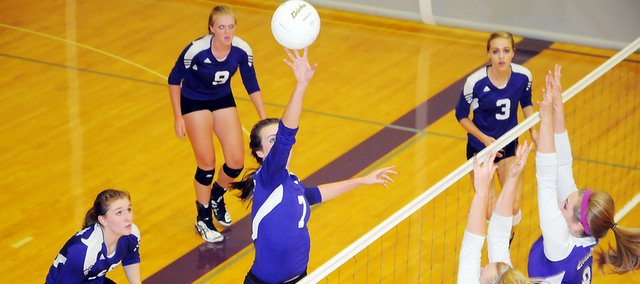 LOUISBURG — Baldwin High School's volleyball continues to struggle against Frontier League opponents as the Bulldogs were swept here Tuesday evening.
Baldwin played the Wildcats close in two sets, but lost all three. The Wildcats won 25-16, 25-22 and 25-23.
"I don't feel like we played hard until the third set tonight," coach Kelly Brown said. "Our communication broke down and we came in very lackadasical into this match. We played a great third set against them and the score reflects that. However, in the two sets before that we dug such a hole that we couldn't get out of the mess that we were in."
The Bulldogs will have its "Dig for a Cure" night Tuesday to support breast cancer research.
The event will take place in the BHS gym, where Baldwin will take on Eudora in games beginning at 4:30 p.m. The evening will include a silent auction and serve-a-thon.
The team asks that everyone in attendance wear pink to the games, in honor of Breast Cancer Awareness Month and in support of BHS volleyball.
"It's going to be a fun night," Brown said. "Come out and support volleyball and breast cancer research."