BHS

picks up first home victory of 2011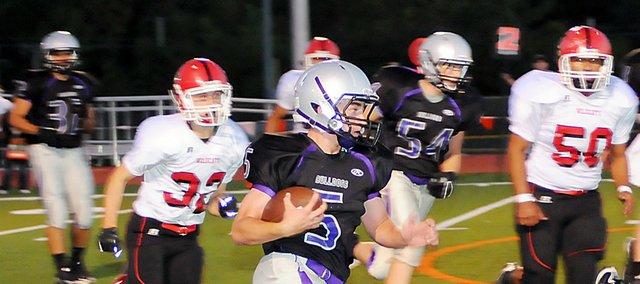 Photo Gallery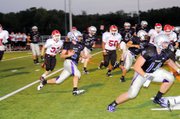 Baldwin High football vs. El Dorado
The Baldwin High School football team hosted El Dorado on Sept. 23 for its homecoming game. BHS won 41-14. It was the Bulldogs' first home victory of the season.
Baldwin High School's football team scored early and often Friday night at it crushed El Dorado, earning its first home victory of the season.
The Bulldogs scored touchdowns on four of six possessions in the first half as they built a 28-0 lead. The Bulldogs (2-2) went on to beat the Wildcats (0-4) 41-14.
"It was really good to come back this week and get up big on a team," sophomore Cornell Brown said. "It feels good to get a big win after a rough start to the season."
De Soto beat Baldwin the week before, giving BHS its second home loss of the fall. The BHS players and coaches were happy to win a home game Friday.
"I got a rush before the game because it's homecoming," Brown said. "It's good to finally win at home, hopefully now we can keep it going."
Coach Mike Berg was proud of his team Friday night.
"A lot of great things happened tonight," Berg said. "We have a homecoming king from the football team, we got our first home win and we got a homecoming win. Our kids really wanted to play well at home and I think we accomplished that tonight."
Senior Jake Mindez was named homecoming king at halftime of the game. He scored a touchdown early in the fourth quarter to solidify his night.
"It was fun to win the homecoming king," Mindez said. "It was a shock, but Asher and Brian and good friends. I had a lot more energy in the second half after winning."
Mendez's score gave BHS a 41-0 lead with 9:38 remaining in the game. Baldwin allowed two touchdowns late to the Wildcats.
"We're trying to get our kids to play all four quarters," Berg said. "We had a few let downs toward the end, but we just have to keep staying focused and getting better. We want something good to happen every possession."
Sophomore Chad Berg led the Bulldogs with a trio of touchdowns Friday. He scored the first two in the first quarter of action. He scored on a four-yard and a 16-yard run to give Baldwin a 14-0 lead.
C. Berg opened the second half with an 88-yard kickoff return for a touchdown. He ran through the heart of the El Dorado defense and used his speed to out run the final defenders.
Brown scored on a highlight 74-yard pass play. He caught a 20-yard pass from Tyler Cawley and raced to the end zone. While running down field, Brown juked two Wildcat defenders en route to his touchdown.
"Cawley threw a good ball," Brown said. "I made some moves and got into the end zone."
Senior Clayton Duncan added the final Baldwin touchdown on an 11-yard run.
Despite the win, the Bulldogs know they have areas to improve upon for their next game.
"We need to get more physical and tackle better," Brown said. "St. James passes a lot, so our secondary has to be ready for that."
Baldwin will play Saint James Academy (3-1) at 7 p.m. Friday. The game is being played at Bishop Miege High School, located at 5041 Reinhardt Dr., Shawnee Mission, KS 66205.
"They throw the ball all over the field and we'll be on the turf," Berg said. "We have a big week to plan."