BHS

scorches El Dorado for homecoming victory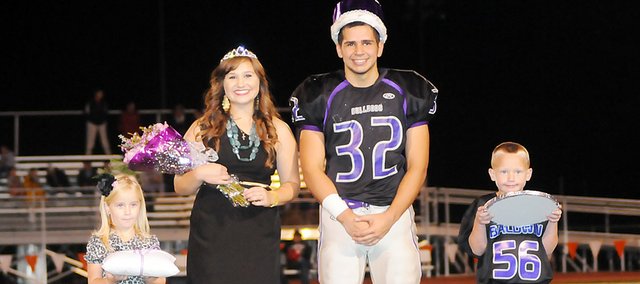 Photo Gallery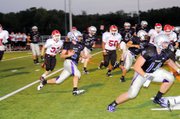 Baldwin High football vs. El Dorado
The Baldwin High School football team hosted El Dorado on Sept. 23 for its homecoming game. BHS won 41-14. It was the Bulldogs' first home victory of the season.
Sophomore Chad Berg scored three touchdowns to lead Baldwin High School's football team to its first home victory of the season Friday night.
Berg helped give the Bulldogs a quick 14-0 lead in the first quarter with a pair of scores. The Bulldogs (2-2) cruised to victory 41-14 over El Dorado (0-4).
"A lot of great things happened tonight," BHS coach Mike Berg said. "We have a homecoming king from the football team, we got our first home win and we got a homecoming win. Our kids really wanted to play well at home and I think we accomplished that tonight."
The Baldwin sophomore also returned the second half kickoff back 88 yards for his third touchdown of the game.
Fellow sophomore Cornell Brown scored on a highlight 74-yard pass play. He caught a 20-yard pass from Tyler Cawley and raced to the end zone. While running down field, Brown juked two Wildcat defenders en route to his touchdown.
Seniors Jake Mindez and Clayton Duncan added the other two scores for the Bulldogs. El Dorado scored both touchdowns in the fourth quarter.
Baldwin will travel to play St. James Academy next week.
Scoring by quarters
E — 0 0 0 14 – 14
B — 14 14 7 6 – 41
Scoring summary
B — Chad Berg 4 run (Austin Kraus kick)
B — Berg 16 run (Kraus kick)
B — Clayton Duncan 11 run (Kraus kick)
B — Cornell Brown 74 reception from Tyler Cawley (Kraus kick)
B — Berg 88 kickoff return (Kraus kick)
B — Jake Mindez 12 run (Kraus kick missed)
E — Isaac Johnson 17 reception from Travis House (Kyle Macy kick missed)
E — Trevor Crain 3 reception from House (Macy kick good)