Three consecutive wins for
BHS

boys' soccer squad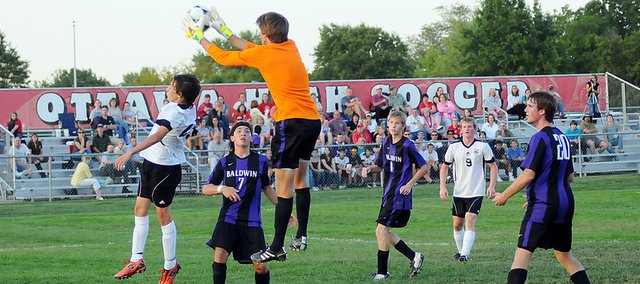 Photo Gallery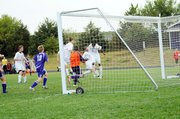 Baldwin High boys' soccer vs. Louisburg
Baldwin High School boys' soccer team defeated Louisburg 8-1 Thursday at home. Senior Caleb Michels scored a hat trick in the victory.
OTTAWA — Relentlessly attacking the opposing defense and goalkeeper paid its dividends in the second half here Tuesday as the Baldwin High School boys' soccer team won its third-consecutive game.
The Bulldogs dominated possession of the ball throughout most of the Frontier League contest. They took many more shots and were able to put two in net during the second half. Baldwin (4-2-1) defeated Ottawa (3-3-1) 2-0. It marked the first time the BHS senior class had won in Ottawa.
"This was an excellent game," coach Mark Joslyn said. "We went into halftime 0-0, but we kept working the ball around and got two really nice goals. They were breakaways and very nice. That's all we needed tonight. It was going to be a one or two goal game tonight."
In the first half, Baldwin nearly scored three or four goals, but missed on each occasion. The game continued that way until middle of the second half.
From midfield, senior Louis Joslyn passed a ball over the Ottawa defense to senior Caleb Michels, who outran the Cyclones to the ball. Michels just beat the Ottawa goalkeeper to the ball as he booted it into the net. It was his fourth goal in the last two games.
Less than 10 minutes later, Baldwin gave itself some cushion with a second goal. Sophomore Russell Cloon scored the goal and L. Joslyn earned his second assist.
"I think we are definitely a possessive team," coach Joslyn said. "Sometimes you can score like crazy playing that way or sometime it's dry. We're trying to teach patience, because it will come. We take a lot of good shots and they will begin to fall."
The Bulldogs' coach stressed conditioning to his players during the early part of the season. He admitted it's beginning to show as his players are able to use their speed and endurance in the second half of games.
"That's the idea" Joslyn said. "Even if they aren't in shape, kids would rather run with the ball than sit back and play defense. It's amazing how much more conditioned they are when they are playing offense. It's helping our mentality.
"I thought it was a really good effort all around," Joslyn said. "I think they had one good shot and Mason stopped it. It was a really good defensive effort. I thought we were much more organized in the back than we have been in past games."
On Thursday, Michels led the Bulldogs in a rout over Louisburg, a team that Baldwin has struggled against nearly every year. Michels scored a hat trick to lead the Bulldogs, who crushed Louisburg 8-1. Baldwin beat Louisburg 4-3 in overtime last year for its first win over the Wildcats in three years.
"This was a win we needed for team morale," Michels said. "It was nice to score three goals today. I've been lacking in scoring. This makes up for a couple of games."
Baldwin scored the majority of its goals during the middle portion of each half. When the Bulldogs scored, the goals came in bunches.
Sophomore Russell Cloon started the game with a header for a goal. Cloon scored with 21:04 remaining in the first half. Senior Louis Joslyn scored less than three minutes later as he took booted a ball into the net after it deflected off of the goal post.
"Russell got a header and he's never got a header in his life," coach Joslyn joked. "Anything Caleb hit was going in. It started to pour in for us."
Michels' first goal came three minutes after Joslyn's goal to give BHS a 3-0 lead. He added another with 8:49 left in the half as Baldwin took a 4-0 lead into halftime.
"We've been working a lot more on attacking the goal and our possession around the goal," Michels said. "I think that helped us a lot today."
The third and final goal of the hat trick came with 24:06 remaining in the game. Michels scored off an assist from Joslyn. Sophomore Nick Joslyn got into the action with a goal 1:08 after Michels' third goal. Baldwin's next goal was shot into the net 29 seconds later. Sophomore Duncan Murray gave the Bulldogs a 7-0 lead.
Baldwin's final goal came with 5:16 left in the game. Junior Mason Bandré scored the last goal off an assist from senior Clint Chapman. Bandre is the Bulldogs' goalkeeper, but he was replaced late in the game so he could play in the field.
"It feels good to be out of the goal sometimes," Bandre said. "I started out playing in the field, but my former coach threw me back there and it fit. So it was nice to get out there and run around more. It was fun."
Baldwin will next play at Paola. The game begins at 4 p.m. today.