Ken Martin — Hall of Fame (horse)shoe in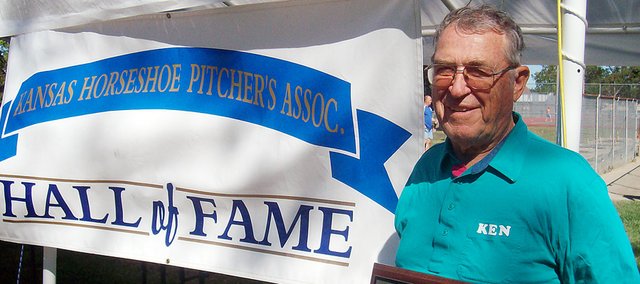 If not for a heart attack 26 years ago, Ken Martin might not have received a prestigious honor by the Kansas Horseshoe Pitchers Association.
In 1985, the now 79-year-old rural Baldwin City resident suffered a heart attack. Now, 26 years later, Martin is one of 27 members in the KHPA Hall of Fame. He was introduced into the hall of fame during a tournament in Ottawa over Labor Day Weekend.
"It was a big surprise," Martin said. "I couldn't believe that I had been accepted into the hall of fame. When they started talking about it, I just thought to myself that I had been nominated again, but they said, 'no, you're in.' It was very surprising."
Martin was nominated for the KHPA Hall of Fame nine years ago, but he was passed on being accepted until the ceremony recently. He didn't expect to hear from the association again, so to become an inductee was a shock.
"As I got close to the chairman, there was a standing ovation," Martin said. "I hadn't had a standing ovation before. It was very special."
The inductee ceremony was special for Martin. Although he's loved the game of horseshoes for most of his life, Martin knows it was his heart attack that regenerated his love for sport.
For rehab after his heart attack, Martin started playing horseshoes again. He drove a piece of water pipe into the ground and created his own horseshoe pit.
"I started playing again for exercise, fun and entertainment," Martin said. "That was my main point when I restarted. I wanted an exercise program that I could do everyday. I wanted something I could do at home and stay off of gravel. I needed to be on grass, not the gravel."
Although it was helping him exercise, Martin was hoping the horseshoes would keep him healthy.
"For the first 15 years, I thought I was steadily increasing in recovery," Martin said. "Then came the blood clots and open heart surgery. I'm not free. My doctor tells me, 'you still have heart disease.' I was on this long trip to getting better an I thought it had gone away. My doctor said, 'you and I both know better than that.'"
After beginning his horseshoes career again, a friend drove by Martin's house and suggested he join a few men at their weekly game. Soon after that, he learned of a league in Ottawa, so he joined that, too.
Martin also helped form a league in Lawrence and introduce handicapped scoring to its league. In 1992, Martin and friend Sam Adame co-hosted the state tournament in Lawrence. It was the largest turnout of any state tournament at that time.
After Adame died, Martin became the tournament director. Shortly after that, he was asked to submit his name as a candidate for the KHPA president. He became the KHPA president in 1994.
"At the time, there was some friction and the president was happy to get out of there as quickly as he could," Martin said. "A friend of mine was president and he was recruiting me on a regular basis. He thought that I would be a good person for the job."
The friction was between groups in the eastern and western portions of the state. A proposal to split the state into two charters was on the table, but it was fixed during Martin's 12-year term as president.
"I don't want to take any credit for it," Martin said. "When I took over, a lot of the older players were dying off and the new, younger guys decided to focus on horseshoes instead of disputes. I did get a comment from a member in Wichita, a couple years after I finished being president, that the friction stopped while I was in office. But I do not claim credit."
Martin enters the hall of fame as a player and promoter. There are three categories that a person can enter and they are player and promoter, player and promoter.
"I don't plan to quit," Martin said. "I will keep playing."