Cool, wet weather leads to fast times for
BHS

runners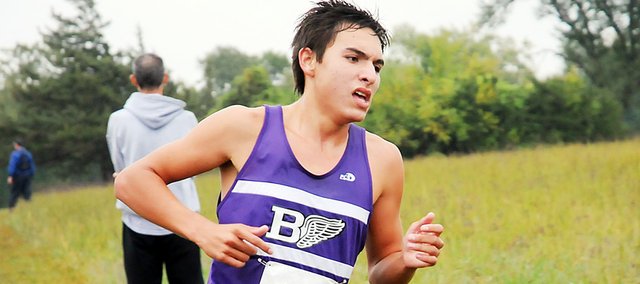 Cooler, damp weather led to some fast times Saturday for the Baldwin High School cross country teams.
Many Bulldogs ran their fastest times of the season or ever at the Baldwin Invitational at the Baldwin City Municipal Golf Course Saturday morning. Temperatures in the 50s and a light rain were beneficial for the runners.
"It was good in the sense that it was nice and cool," coach Mike Spielman said. "Add that with the light rain and it was very nice for the runners. There was even a little breeze that kept the heat off of them. They were able to run some fast times. It may not have been great for the spectators."
Freshman Joe Pierce enjoyed the weather.
"It was beautiful for us," he said. "The rain was great."
Both BHS teams battled several of the top Class 5A and 6A teams at the six-team meet. They both finished fourth in the team standings.
"It's a good challenge for us," Spielman said. "This meet and our next two are really tough. We kind of get kicked around a bit, but it's good for us to figure out where we need to be and to get in there and compete against some bigger schools."
The BHS boys scored 84 points, just one behind Free State. Shawnee Mission West (42) won the meet, while St. Thomas Aquinas (67) finished runner-up.
On the girls side, STA won the meet with 35 points. The next three teams were SMW (38), Free State (95) an Baldwin (103).
"We keep packing up each race, but we still need to move up a bit more," Spielman said of his girls' team. "Once we do that, we'll be all right. It will continue to serve us well to run together."
Sophomore Katie Jones once again led the BHS girls' team. She finished 12th and ran one minute faster than she ran at Wamego last week as her time was 15:43.54. Senior Carol Whaley was nine seconds behind Jones in 14th place.
The next five girls finished within a timespan of 24 seconds. Junior Kaitlyn Barnes (25) was third on the team and ran 16:13.96. Junior Elena Watson (36) was the seventh BHS runner and she ran 16:37.14. Between them was junior Sienna Durr (28), senior Abi Hartzell (29) and sophomore Hannah Hutton (34).
"Our times keep dropping, which is nice to see," Spielman said. "But it will be tough to match those times during the next few races, because it was pretty nice running conditions."
A trio of Baldwin boys finished in the top seven. They were sophomore Ethan Hartzell (3), senior Brian Wright (6) and senior Tosh Mihesuah (7). Hartzell ran his best time at 16:18.93. Wright's time was 16:40.93 and Mihesuah broke 17 minutes for the first time as he ran 16:45.81.
"We had three guys under 17, so that's a really good day," Spielman said. "Then Joe broke 18 for the first time."
Another milestone broken was the 18-minute barrier for Pierce, who ran in his second race ever. Pierce finished 37th and ran 17:56.93.
"It feels great," Pierce said. "It's exciting to run that fast already. I didn't know if I would do it this meet, but I thought I could do it."
Sophomore Tucker Clark (46), junior Colton Horne (50) and freshman Brock Randels (52) rounded out the varsity lineup.
Baldwin will continue to compete against larger schools this week at the Rim Rock Invitational. The prestigious meet takes place at the Rim Rock Farm, north of Lawrence. It begins at 8:30 a.m. The junior varsity teams will run early, while the varsity boys will start at 11:15 a.m. and the varsity girls at 12:45 p.m.
"It's always a nice challenge," Spielman said. "You have to be tough. It's a course and competition where if you don't come ready to really get after it, it can eat you up pretty quick."