Bulldogs change defense, fall to Cyclones in three games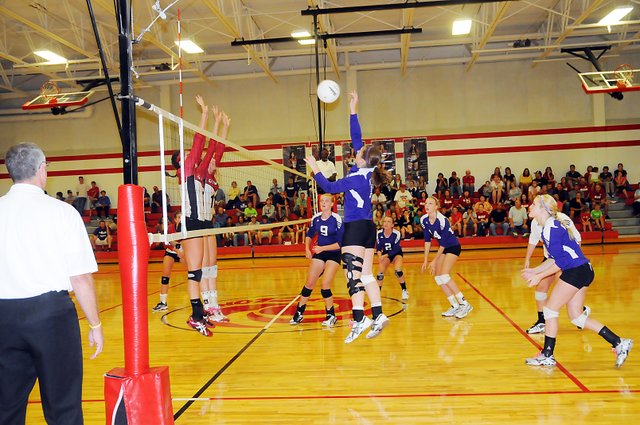 OTTAWA — Despite its third Frontier League loss of the season here Tuesday, the Baldwin High School volleyball team is remaining optimistic for the rest of its 2011 season.
The Bulldogs (5-8) fell to the Cyclones (11-5) in three-straight games. The Bulldogs haven't won a league game in any of their three matches.
"I think we played well," coach Kelly Brown said. "Tonight was the first time using a new lineup. We had Katie (Kehl) come back from her injury and another girl got sick toward the end of the match. We had a senior step up and fill that spot. The girls are steadily pushing through this and steadily fighting. They are giving their all against a good team."
Baldwin and Ottawa played neck-and-neck during the first and third games, but in the end Ottawa finished both games with the final points. The Cyclones scored the last two points of the final match to win 25-23.
Ottawa led Baldwin 17-16 in the first game before finishing the match on a long run. Ottawa scored eight of the last 10 points as it won 25-18. OHS won the second game 25-16.
"The girls came together at the end and felt good about the way they played tonight," Brown said. "If they can step off the court with their heads up, feeling good and knowing they gave all that they had, then we're turning the corner and starting to see good things."
Baldwin's lineup was different than it had been all season at times Tuesday. Junior Katie Kehl played her first match of the fall. She was cleared Sept. 14 for action after rehabilitating from a knee injury she suffered in March.
"It felt awesome to be back," Kehl said. "I was so ready to play. I was tired of hitting a ball against the wall."
The Bulldogs also went back to their defense they used in 2010. Brown changed the defense this summer, but players convinced her to revert to last year's defense. Both players and their coach were pleased with the results.
"We changed our defense back to the defense we used to use," Brown said. "The girls are very happy and excited about it. We're about halfway through our season and they feel good about where they are headed.
"We didn't have a lot of mental errors," she said. "We had a few little things here and there, but not many. We cleaned that up a bit. I think some of that has to do with confidence and believing in themselves."
Baldwin's next match will begin at 6 p.m. Tuesday at Louisburg.