Bulldog turnovers lead to Wildcats's victory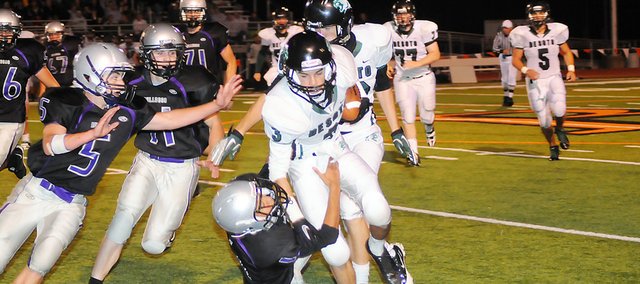 Photo Gallery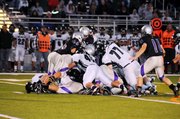 Baldwin High football vs. De Soto
Baldwin High School hosted De Soto for a home football game on Sept. 16. De Soto won the game 28-7 at Liston Stadium.
Two costly turnovers — one in each half — doomed the Baldwin High School football team Friday night at Liston Stadium.
De Soto scored a pair of touchdowns off the BHS turnovers. One interception return and another fumble return for scores were enough to put the Bulldogs away.
De Soto (2-1) won the game 28-7 as Baldwin falls to 1-2. Baldwin is 0-2 at home this year with its homecoming game coming Friday.
"It was a game of mistakes," Berg said. "We played pretty well the week before and then got complacent this week and lost some focus. I thought we had a good week of practice, but it didn't carry over to the field. We just made too many mistakes.
"It goes back to fundamentals," he said. "We were tackling too high and we weren't staying on our blocks. We blocked a lot of the wrong guys. These are things that we can fix. It's not an effort or talent problem, it's just a technique problem that we need to fix."
It was a tough loss for the Bulldogs, who were hoping to get their first home victory of the season.
"It was a hard loss," senior Clayton Duncan said. "I think it makes it tougher knowing that if you take away a couple plays that game could have been different."
De Soto struck first with a touchdown in the first quarter. The Wildcats' quarterback broke a 21-yard run up the middle for the opening score of the game.
Both teams battled for the next quarter. With less than two minutes remaining in the half, the Bulldogs were pinned deep in their own territory. Junior Tyler Cawley's pass was intercepted and returned 20 yards for a touchdown, giving De Soto a 14-0 halftime lead.
Neither team was able to move the ball downfield much during the third quarter. The Wildcats led 14-0 heading into the final quarter of action.
De Soto scored its third touchdown in the middle of the quarter on a one-yard run. Later in the quarter, Baldwin threw a screen pass, which was dropped and bounced forward. A De Soto player scooped it up and ran 28 yards for a touchdown as the play was ruled a backwards pass.
"We will fix our mistakes and get better this week," Berg said. "It's a long season and we just started. We have some talented kids, but we just have to get better."
Baldwin's only score came on a 22-yard pass from Chad Berg to Clayton Duncan. It came during the final three minutes of the Frontier League contest.
"We scored enough points for them," Berg said. "It was nice to score some points for ourselves."
Duncan enjoyed his first touchdown of the season.
"It was very exciting," he said. "I ran a stalk and go and they bit on it. I got open and Chad threw a great pass to me in the end zone."
After the game, the Bulldogs' coach talked about how his team's offense needs to avoid negative plays and penalties if it wants to be successful.
"We're moving the ball well," Berg said. "Then we make a mistake like a snap infraction, holding call or we drop a pass. That just blows our momentum that we have going. Those are things that we will continue to improve upon."
Baldwin will stay at home this week. El Dorado comes to town for a 7 p.m. kickoff at Liston Stadium. It is the Bulldogs' homecoming game.
"It's nice to stay at home and try to get a win at home," Berg said. "We're 0-2 at home. We need to take care of business at home.
"They are very diverse on offense," he said of El Dorado. "They run so many different sets. They spread you out with a whole bunch of things. We have to be ready for anything."