BHS

girls tennis players enjoy home tournament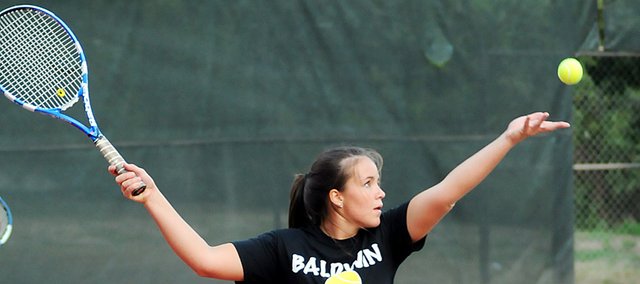 Baldwin High School's girls' tennis program hosted its annual home varsity tournament last week before having its weekend outing canceled.
On Saturday, the Bulldogs were supposed to travel to Smoky Valley for a tournament. However, the rainy weather forced officials to cancel the meet before the Bulldogs left Baldwin City.
Baldwin's only varsity action last week was its home tournament on Sept. 14. The No. 2 singles player and doubles team medaled, while the No. 1 singles player and doubles team finished 2-2 on the day. As at team Baldwin finished fourth after there was a three-way tie for first place.
"It went pretty well," coach Justin Hoffman said. "We had opportunities to get a few more wins, but we really played one really bad match all day, where we were the better team and didn't play like it."
The No. 1 doubles team of seniors Alison Berg and Alexis Finucane earned the top spot for Baldwin. They finished the day 4-1 and a runner-up finish.
"I thought it was one of our best tournaments so far and hopefully we will build off of it," Berg said. "We played as a team and went for our goal to place in the tournament."
Berg and Finucane finished pool play with an unbeaten 4-0 record. They sat and waited for the final pool play matches to finish before the could play their final matches.
"They played really well," Hoffman said. "Alexis wasn't feeling well physically, so Alison stepped up and played big. During their second match, the played awesome. Alexis even played well for not feeling well."
Senior Brooke Morgan also medaled at the tournament. She finished fourth in No. 2 doubles. The Bulldogs coach wasn't able to see many of her matches as her matches were played at the Baker University courts and he was at the BHS courts.
"The one match I did see, she played really well," Hoffman said. "She battles. She gets to a lot of balls and puts a lot in play."
Junior Kaitlin Jorgensen played No. 1 singles for Baldwin. She went 2-2 on the day and played some of her best tennis, according to her coach.
"KJ played about as strong as I've seen her play," Hoffman said. "Playing No. 1 singles, you play the other team's best girl. Those were the best matches I've seen her play, in terms of patience, trying to get her point going and putting herself in a position to win. She still needs to work on consistency and finishing points, but she is getting better at both."
Seniors Kara Hoegerl and Hayley Schwartz played No. 1 doubles and they finished the day 2-2 after winning their first two matches of the day.
"They played one bad match," Hoffman said. "The other team wasn't as strong, but they could fight you and get the ball back. We just had a hard time stepping in and dictating points and imposing our will on them. As tennis players, we all do it, but it was unfortunate because that knocked them out of the medal rounds."
Hoffman added that one disadvantage of the tournament is the no-advantage scoring. Once a game gets to deuce point, the next point wins. He said some of the BHS players had good matches, but lost because they lost many of those points.
"I've seen really close matches be 8-1," Hoffman said. "If one person is a little bit stronger on deuce point, they are going to win those games. That's kind of what happened to KJ and Hayley and Kara."
The varsity squad will compete at Hiawatha on Saturday. The junior varsity team will host the Baldwin Invitational today.
"We have a lot of girls to give matches to," Hoffman said of the JV team. "Every year, you'd think I could get used to how bad we are at the beginning, because most haven't played before, but then as we get going, we learn to play tennis. They are improving and getting better as the season progresses."