BHS

cross country teams finish fourth at home meet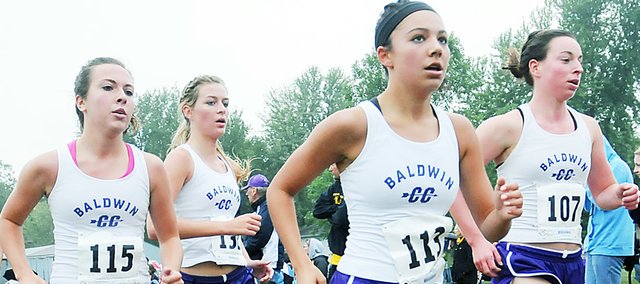 Both Baldwin High School cross country teams finished fourth of six teams at their home meet Saturday.
The Bulldogs battled several of the top Class 5A and 6A teams in the state at the Baldwin Invitational. Most of the Bulldogs ran their fastest times of the season, despite the rainy morning.
The BHS boys scored 84 points, just one behind Free State. Shawnee Mission West (42) won the meet, while St. Thomas Aquinas (67) finished runner-up.
On the girls side, STA won the meet with 35 points. The next three teams were SMW (38), Free State (95) an Baldwin (103).
A trio of Baldwin boys finished in the top seven. They were sophomore Ethan Hartzell (3), senior Brian Wright (6) and senior Tosh Mihesuah (7).
Sophomore Katie Jones once again led the BHS girls' team. She finished 12th and ran one minute faster than she ran at Wamego last week. Senior Carol Whaley was nine seconds behind Jones in 14th place.
There will be a full story on the meet in Thursday's Signal.
BHS boys results
3. Ethan Hartzell, 16:18.93
6. Brian Wright, 16:40.93
7. Tosh Mihesuah, 16:45.81
37. Joe Pierce, 17:56.93
46. Tucker Clark, 19:02.96
50. Colton Horne, 19:26.46
52. Brock Randels, 20:15.52
BHS girls results
12. Katie Jones, 15:43.54
14. Carol Whaley, 15:52.2
25. Kaitlyn Barnes, 16:13.96
28. Sienna Durr, 16:23.58
29. Abi Hartzell, 16:24.08
34. Hannah Hutton, 16:33.77
36. Elena Watson, 16:37.14
41. Libby Verhaeghe, 16:43.36
44. Elizabeth Sigvaldson, 16:52.51
49. Ashton Temple, 17:07.11