Bulldogs rout Louisburg, 8-1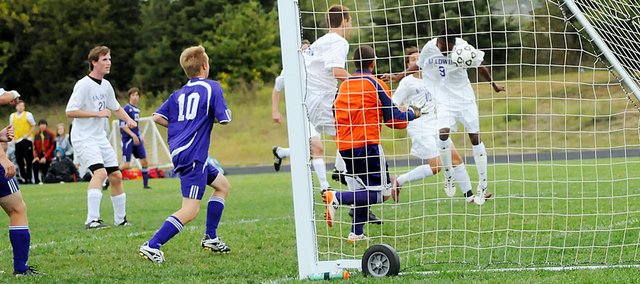 Photo Gallery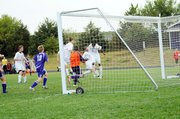 Baldwin High boys' soccer vs. Louisburg
Baldwin High School boys' soccer team defeated Louisburg 8-1 Thursday at home. Senior Caleb Michels scored a hat trick in the victory.
Caleb Michels and the Baldwin High School boys' soccer team routed Louisburg en route to its second-straight victory Thursday at home.
Michels, a BHS senior, scored a hat trick to lead the Bulldogs, who crushed Louisburg 8-1. Baldwin beat Louisburg 4-3 in overtime last year for its first win over the Wildcats in three years.
"This was a win we needed for team morale," Michels said. "It was nice to score three goals today. I've been lacking in scoring. This makes up for a couple of games."
Baldwin scored the majority of its goals during the middle portion of each half. When the Bulldogs scored, the goals came in bunches.
Sophomore Russell Cloon started the game with a header for a goal. Cloon scored with 21:04 remaining in the first half. Senior Louis Joslyn scored less than three minutes later as he took booted a ball into the net after it deflected off of the goal post.
Michels' first goal came three minutes after Joslyn's goal to give BHS a 3-0 lead. He added another with 8:49 left in the half as Baldwin took a 4-0 lead into halftime.
The third and final goal of the hat trick came with 24:06 remaining in the game. Michels scored off an assist from Joslyn. Sophomore Nick Joslyn got into the action with a goal 1:08 after Michels' third goal. Baldwin's next goal was shot into the net 29 seconds later. Sophomore Duncan Murray gave the Bulldogs a 7-0 lead.
Baldwin's final goal came with 5:16 left in the game. Junior Mason Bandré scored the last goal off an assist from senior Clint Chapman. Bandré is the Bulldogs' goalkeeper, but he was replaced late in the game so he could play in the field.
Louisburg's lone goal happened before Bandré's goal.
Baldwin will next play at 6 p.m. Tuesday at Ottawa.