Bulldogs fall to Wildcats 28-7
Photo Gallery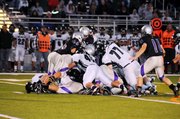 Baldwin High football vs. De Soto
Baldwin High School hosted De Soto for a home football game on Sept. 16. De Soto won the game 28-7 at Liston Stadium.
Two costly turnovers — one in each half — doomed the Baldwin High School football team at home Friday night.
De Soto scored a pair of touchdowns off the BHS turnovers. De Soto won the game 28-7 to improve to 2-1, while Baldwin falls to 1-2.
The Wildcats caught an interception and returned it 20 yards for a touchdown near the end of the second quarter. Late in the fourth quarter, De Soto's Zack Griffiths recovered a fumble and ran 28 yards into the end zone.
Baldwin's only score came on a 22-yard pass from Chad Berg to Clayton Duncan. It came during the final three minutes of the Frontier League contest.
Baldwin will play El Dorado next Friday for its homecoming game.
Scoring by quarter
D — 7 7 0 14 – 28
B — 0 0 0 7 – 7
Scoring summary
D — Corbin Clark 21 run (Josh Pasley kick)
D — Cole Cannon 20 interception (Pasley kick)
D — Ryan Hicks 1 run (Pasley kick)
D — Zack Griffiths 28 fumble recovery (Pasley kick)
B — Clayton Duncan 22 reception from Chad Berg (Austin Kraus kick)