Miniatures collection at Baker University ends Sept. 23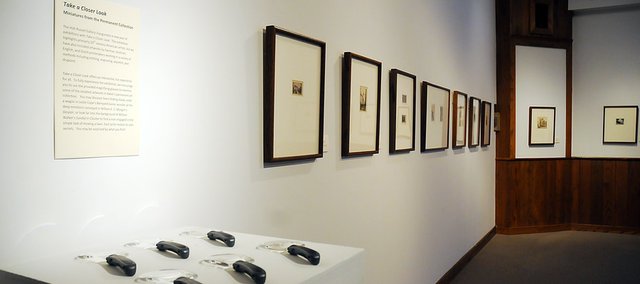 Baker University Campus Art Coordinator Traci Furan is encouraging the public to carefully observe artwork with the exhibit "Take a Closer Look: Miniatures from the Permanent Collection" in Baker's Holt Russell Gallery.
The exhibit is a collection of small-sized prints. These prints are members of Baker University's permanent collection of art. They were donated by 1907 Baker University graduate Frank Bristow. Bristow studied at the University of Oxford for three years after leaving Baker and began collecting prints during that time. Bristow gave the university a large portion of these prints at the time of his death in the late 1960s.
The collection is primarily from 20th century American artists, however some of the prints are the work of English, Dutch, Austrian and German artists. In the gallery there is a section of themes within the collection. There is a section of portraits, animals, trees, water and urban environments.
"Even though there are different scenes between the exhibition the connection is that they are small-sized," Furan said.
Furan and Brett Knappe, assistant professor of art history and associate chair of art department, together decided to display the small-themed collection of Bristow's donated prints.
"We worked together on coming up with an exhibition topic, a theme that worked really well, and this was (Furan's) idea," Knappe said. "It was her idea to get the magnify glasses to see the details in the art."
The Magnifying glasses are set around the gallery for the public to use and examine the miniature prints.
"I selected (the prints) specifically so the collection would be interactive with the public," Furan said. "So often when you go into museums you are told not to touch anything, but I want this collection to be really accessible and thought it would be a great way for people to get up-close and personal and see some things they might not normally see in a print."
The Holt Russell Gallery is located on the first floor of Parmenter Hall and is open Monday, Wednesday and Friday from 11 a.m. to 12:30 p.m., Tuesday from 11 a.m. to 3:30 p.m. and Thursday 11 a.m. to 2 p.m. and is free to the public.
The miniatures collection will be on display in the gallery until Sept.23 when Furan will start preparing for the next collection in the gallery, which will feature Baldwin City native Molly Murphy's artwork.
"It is going to be a solo exhibition of paintings and drawings by a contemporary living artist," Furan said.
The opening reception for Murphy's exhibition will be 4:30 p.m. to 6:30 p.m. Oct.4. and the exhibit will be in the Holt Russell gallery until Oct. 28.