Joslyn brothers lift
BHS

boys soccer to victory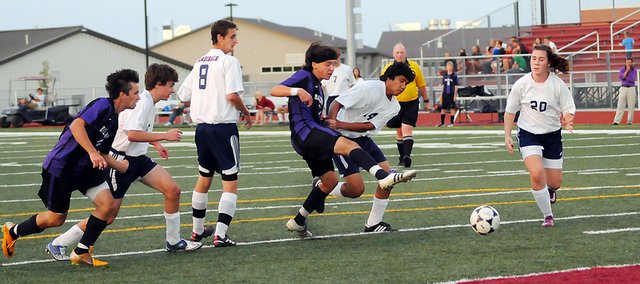 EUDORA — The Joslyn brothers helped the Baldwin High School's boys' soccer team end a two-game losing skid here Tuesday.
Sophomore Nick Joslyn and senior Louis Joslyn each scored goals in the first half of Tuesday's Frontier League contest. The Bulldogs beat Eudora 2-0.
"It was just nice to get a win tonight," coach Mark Joslyn said. "I think that's the best way to put it."
The Bulldogs (2-2-1) hadn't played since losing to De Soto a week ago. They were beaten 3-2 by De Soto and 2-1 at Spring Hill just five days prior.
Baldwin had many chances to score in both games, but struggled to finish. BHS also allowed a pair of easy goals right before and after halftime, from which it was unable to recover.
"It was nice to win, because we had a little losing streak going," senior Clint Chapman said. "It feels great to come in here and play well. After our last game, everybody was frustrated. We just wanted to get right back out on the field."
On Tuesday, the Bulldogs were the ones scoring near halftime. They took several shots during the first half as they controlled the tempo and the game.
N. Joslyn was able to connect on a shot with 10:43 remaining in the half. Senior Caleb Michels assisted the play as N. Joslyn kicked it past a Eudora defender and into the corner of the net.
"We controlled the ball very well," M. Joslyn said. "We passed it wide and brought it back into the middle. We had lots of corner kicks, too. We want to keep the pressure on, because eventually, you're going to break through and score."
L. Joslyn gave Baldwin a 2-0 lead just three minutes after his brother's goal. Michels took a shot and the ball banked off of the goalpost and back in front of the net. The ball rolled back to L. Joslyn, who booted it back into the net.
"We had a lot of chances in the first half," M. Joslyn said. "We finally connected on a couple. The ones that went in weren't pretty. The ones that were pretty just didn't go in."
Baldwin nearly scored another goal during the final seven minutes of the half. More importantly, BHS held Eudora scoreless during that stretch and for the entire game.
"We're all so glad we didn't give up a goal during the first or last five minutes of each half," Chapman said. "That would have been really frustrating, because we've talked about that a lot in practice."
Neither team possessed the ball much during the second half as the ball was kicked back and forth. Both teams took several shots, but the Bulldogs knew they should have played a better half.
"We started playing down to their level," Chapman said. "We didn't possess it as well. I'm not sure what contributed to that, but we need to play better for the whole game."
Baldwin will try and win back-to-back games for the first time all season today as it hosts Louisburg. The game will begin at 4 p.m. at the field north of BHS.
"Louisburg is going to be a big game," Chapman said. "I'm ready to play them Thursday."