Bulldogs finish home tournament with four victories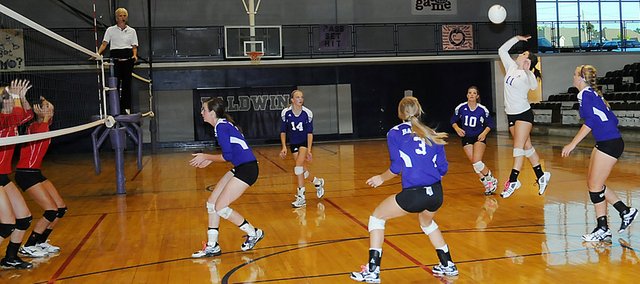 After finishing fifth Saturday at its home tournament, the Baldwin High School volleyball team dropped a Tuesday match to Paola.
Baldwin dropped its second Frontier League match of the season. It's first was last week against Spring Hill. The Bulldogs (5-7) fell to Paola in three-straight games, losing 25-22, 27-25 an 25-17.
"The whole night was very close," coach Kelly Brown said. "We got into a little serve-receive funk at the end of the last game. Before that we were ahead by four points. That was the biggest lead they had on us all night."
Although it was another league loss, Brown was pleased with her team's performance at Paola.
"It was a competitive night of ball for us," coach Kelly Brown said. "We played Paola much better than we played them in our tournament on Saturday. We are asking the girls to play harder and not make mental errors. They did all of those things. We just now have to get more disciplined on defense."
The Bulldogs and Panthers battled back and forth during the first two games. The Bulldogs were unable to close either game and fell behind 2-0. Paola broke the third game open late en route to its victory.
"Our passing looking really well tonight," Brown said. "Our serving was great tonight. Our setters did a great job of getting our hitters the ball tonight, and we did a great job of moving the ball around. Everybody got a lot of swings in.
"Defensively is where we fell apart tonight. Paola kind of picked on us in a few spots tonight."
Baldwin and Paola played Saturday, too, and the results was similar. Baldwin won the first game in a best-of-three game match, but lost the match to the Panthers.
"We definitely played them better tonight," sophomore Madeline McCrary said Tuesday. "They even had their outside hitter back tonight, which they didn't have Saturday. We tried to work around her and adjust for her being there."
On Saturday, the Paola loss was the second defeat for Baldwin. Gardner-Edgerton beat Baldwin (25-14, 25-17) to begin the morning. After the opening two losses, Baldwin rallied to win four-straight matches to finish the Baldwin Invitational Tournament.
"We started off on a rough note, but then we came back and won four in a row," Brown said. "We finished in fifth place, which was great. The girls played hard all day and one three-game match was the difference in us playing in the top four bracket."
In the next two pool play games, Baldwin beat Osawatomie (25-19, 25-17) and Wellsville (25-20, 25-15). The Bulldogs' 2-2 pool-play record put them into the consolation bracket during the afternoon.
BHS beat Oskaloosa (25-23, 25-21) in its first bracket and then defeated Bonner Springs (22-25, 26-24, 25-18) in the fifth-place game.
"At the end of the day, the girls were tired and hungry, but they pushed through and they won," Brown said. "When you talk about winning and some of the focus they have to play all day, they stuck it out and played hard at the end of the day. We ended on a great note.
"It was nice to come out of Saturday with four wins under our belt. We worked and tweaked a lot of stuff Saturday. I think it definitely helped how well we played tonight. We still have a long ways to go this season and the girls have a lot to look forward to. It's tough to lose, but they are staying positive and keeping their heads up."
The BHS players were happy to finish the day winning four in a row and place fifth.
"We didn't play our best in the morning," McCrary said. "We came through in the end and won the last four matches. We definitely worked through a lot of things as the day went on."
Baldwin will next play at 6 p.m. Tuesday in Ottawa.