Baker University sports roundup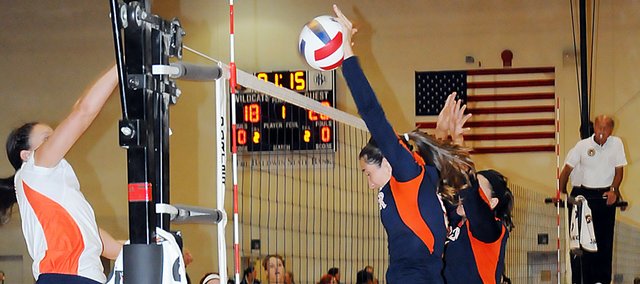 Wildcat men's soccer remains undefeated

Junior Donny George's goal in the fifth minute lifted Baker University's men's soccer team to a 1-0 victory over Oklahoma City on Saturday in Siloam Springs, Ark., improving the Wildcats' record to 6-0.
Sophomore Matt Bickley posted three saves to record his fourth shutout of the season and the team's fifth shutout overall.
On Friday, Baker rolled to a 4-1 victory over John Brown. The Wildcats broke a 1-1 tie at halftime with three goals in the second half. Nick Aguilar scored in the first half. Tom Lowndes, Odaine Sinclair and Ethan Bauer scored in the second half.
The No. 18-ranked Wildcats return to action Friday, Sept. 16 against Oklahoma Baptist at 5:15 p.m. at North Park.
BU women claim third consecutive victory

Sparked by two goals in the first half by Alexa Fryer, Baker University hung on for a 4-3 women's soccer victory — its third straight — over John Brown (Ark.) on Friday in Siloam Springs, Ark.
The Golden Eagles tied the game at 2-all in the 65th minute before Baker responded, scoring on a deflected shot followed by an Alix Schiraldi goal in the 83rd minute.
The No. 16 Wildcats (3-1) will play their home opener against Oklahoma Baptist at 3 p.m. Friday, Sept. 16, at North Park.
Volleyball team goes 2-2 at tournament

Baker swept Midland (Neb.) University and Oklahoma City on Friday to open the Baker volleyball tournament before falling on Saturday to Spring Hill (Ala.) College and John Brown (Ark.) University at the Collins Center.
Against Midland, Sydney Pemberton led the Wildcats with eight kills, while Jana Boss chipped in 20 assists. Libero Brooke Allen had nine digs.
In the second match, Christina Delladio and Boss led Baker with seven kills apiece. Boss provided 20 assists.
Baker (5-7) opened the Heart of America Athletic Conference on Tuesday, Sept. 13, against Evangel in Springfield, Mo., and traveled to Southwest Baptist in Bolivar, Mo., on Wednesday, Sept 14. The Wildcats will play Friday and Saturday at the MidAmerica Tournament in Olathe.
Baker suffers first football loss

Evangel scored on the opening drive and never trailed on Saturday, hanging on for a 34-27 Heart of America Athletic Conference football victory over Baker University in Springfield, Mo.
Baker (2-1 overall and 1-1 in the HAAC) had won seven in a row before the setback.
Tied at 14-all at halftime, the Crusaders outscored Baker 10-3 in the third quarter to take the lead for good.
Freshman Andrew Kimrey kicked four field goals, one shy of the school record for kicks made in a game. His field goals went for 23, 20, 24 and 40 yards.
Sophomore quarterback Jake Morse completed 30 of 50 passes for a career-high 412 yards. The 50 attempts set a school record.
Top Wildcat receivers were Jake Green (three catches, 95 yards), Tyler Hatcher (four catches, 83 yards), John Babb (12 catches, 72 yards) and Reggie Harris (four catches, 62 yards).
Adam Steele led the Wildcats defensively with 10 tackles.
The Wildcats will return to action this weekend when they face Central Methodist (1-1, 1-1) at 6 p.m. at Liston Stadium.