Art Walk finale to start an hour earlier Friday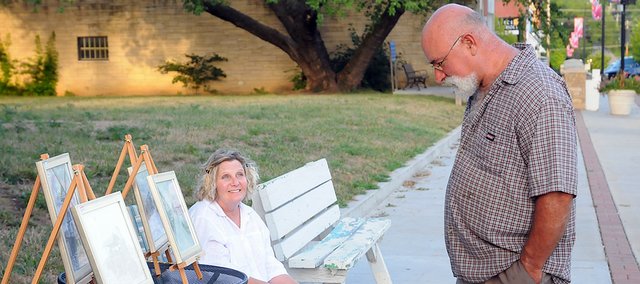 As the sun continues to set earlier, the Baldwin Community Arts Council changed the time of its final 2011 Art Walk.
Friday's summer finale will be moved up one hour. It will run from 6-8 p.m. instead of the 7-9 time frame that was used for the previous three Art Walk events.
"Since the sun is going down sooner, we've changed the time from 6-8," Art Walk organizer Wayne Jarvis said. "We change this every year because of daylight hours."
The entire Art Walk event was almost moved to later in the month, but organizers kept it scheduled for Friday.
"We had hoped to tie in the Blues and Barbecue, but it got moved a couple times so much that it ended up in October," Jarvis said. "We can't really have a September Art Walk in October. It was going to be a week later than normal, but it's back to it's third Friday."
The final Art Walk will also be in conjunction with the opening of a Lumberyard Arts Center opening. The LAC will be opening a fabric art exhibit. It will run through Oct. 8.
The show is made up of a group of regional fabric artists based in Springfield, Mo., working in the contemporary quilt medium. The art quilt isn't designed to be placed on a bed as traditional quilts, but hung like a painting.
Artists use fiber as their medium and may dye, paint, cut, tear or fuse the fabric or other fibers as part of their work. The pieces may be embellished with beads, buttons, photos or found objects.
"The Lumberyard Arts Center is opening a show Friday," Jarvis said. "We have that going along with the Art Walk."
The Art Walk finale will also offer a chance for local artists to show their work together. The combined works will be sold in February at the BCAC fundraiser. It is being called the "Personhood of the Traveling Art."
"We have three art boards we are going to circulate amongst the artists at the walk for each of them to contribute something to it," Jarvis said. "They will be multi-artist collages. Then those boards will be donated to the LAC for the next chocolate auction.
"In one of our meetings, we were throwing out different ideas," he said. "We had so much going on in the others that we pushed it back to this one. However, it was an idea we had early on this year."
One event that won't be happening at Friday's finale will be Cuppa Java. It's usually part of the annual September Art Walk, but won't be this year. However, a secret surprise that has happened at each Art Walk might happen one more time this year.
"They've been quite well attended, so we're hoping to also get good attendance Friday," Jarvis said. "We look forward to having a great closure to Art Walk."