Bulldogs spread out Broncos with ground, air attacks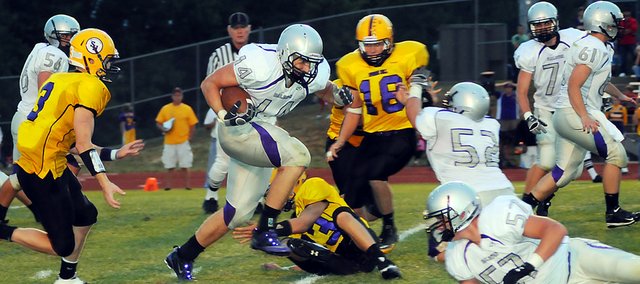 SPRING HILL — Tyler Cawley threw a pair of touchdowns and rushed for another as the Baldwin High Bulldogs earned their first victory of the season Friday night.
The BHS junior quarterback completed 9 of 16 passes for 166 yards to lead the Bulldogs (1-1) to a 35-20 victory over the Broncos (0-2).
Cawley threw touchdown passes of 17 and 74 yards. Sophomores Cornell Brown and Chad Berg caught those scores. Cawley also ran a quarterback sneak for a one-yard touchdown. Berg and senior Jake Mindez also scored touchdowns on one-yard runs.
Baldwin led 35-7 with 10:18 remaining in the game before Spring Hill scored its final touchdowns. The Bulldogs tipped two passes that resulted in Broncos' touchdowns.
BHS will host De Soto next Friday.
Scoring summary
B — 7 7 14 7 – 35
SH — 0 7 0 13 – 20
B — Chad Berg 1 run (Austin Kraus kick)
B — Jake Mindez 1 run (Kraus kick)
SH — Carson King 70 reception from Jeff Lovetinsky (Niles Kahn kick)
B — Berg 74 reception from Tyler Cawley (Kraus kick)
B — Cornell Brown 17 reception from Cawley (Kraus kick)
B — Cawley 1 run (Kraus kick)
SH — Brady Donahue 39 reception from Lovetinsky (Kahn kick)
SH — Lovetinsky 48 run (Kahn kick failed)