Panthers bash Bulldogs in opener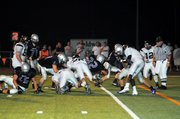 Baldwin High School's football team couldn't find an offensive rhythm while its defense struggled to stop Paola in its opening game of the season.
Paola opened up a four-touchdown lead before the Bulldogs found the end zone. The Panthers (1-0) beat Baldwin (0-1) 27-6 Friday at Liston Stadium.
"I feel like we're ready to move on from it," senior Jake Mindez said. "It was a wake up call and now we know where we stand. We just have to move on to our next game."
Turnovers and a lack of consistency on offense doomed the Bulldogs in the opening Frontier League contest. The Bulldogs turned the ball over three times with two interceptions and one fumble.
Despite the troubles in the game, coach Mike Berg wasn't too upset and said his team has mistakes that it needs to fix.
"I look back at our kids' effort and I'm very happy," Berg said. "Our kids never gave up and they played hard all game. Did we make some mistakes? Yes. We made some first-game mistakes that hurt us a little bit. We dropped a few passes and fumbled the ball a couple of times. But you can't fault the effort. We can fix those little mistakes and get better."
Baldwin picked up only five first downs during the first half of action Friday. BHS was only able to pick up three first downs in the second half, two of which came on a 38-yard pass to sophomore Chad Berg and a 36-yard run by Berg.
Junior Tyler Cawley threw the pass to Berg late in the third quarter. The 36-yard run came two plays after the deep pass. It set up the Bulldogs to score their only touchdown. Mindez finished the drive with a four-yard touchdown run.
"We moved the ball a bit and then we'd make a mistake," Berg said. "I thought we did much better in the second half. We got the jitters out and the kids were more consistent in their blocking assignments. There were times when we got some big plays, but we have to be more consistent."
Mindez agreed with his coach.
"We just weren't very consistent," Mindez said. "We made too many mistakes. We made mistakes on the line and in the backfield. Those are things we are working to correct this week."
Both teams punted on their opening possessions of the game, but Paola scored touchdowns on its next two, taking a 14-0 lead. The Panthers drove 40 yards for the opening score and 81 yards on the next drive.
The Panthers added a third touchdown with 0:17 remaining in the half. With halftime approaching, the Bulldogs wanted to keep Paola out of the end zone. However, the Panthers scored on a 26-yard run before halftime.
"That hurt us badly," Berg said. "They are ranked No. 5 in the state for a reason. They are good. They have a three-year starter at quarterback and running back. They did a nice job of running their offense. They kept us off balance all night runs inside and outside."
Baldwin will try for its first win of the season Friday at Spring Hill. The game begins at 7 p.m..
"Spring Hill is in the same boat as us," Berg said. "We're both 0-1 and have both played two of the best teams in the league. We've got a lot to learn about our team. It will be a battle of two offenses that are trying to find their identity and two defenses with new personnel."