History comes alive at Midland Railway's Labor Day weekend event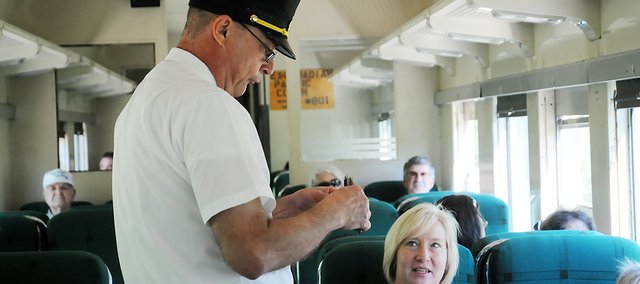 Train lovers and children alike traveled to Baldwin City over the Labor Day weekend to take a ride through the history during the Midland Railway Railfest 2011.
"It's a chance to get away from the city and take a ride on the past. That's what we're about," Midland Railway Marketing Director Allen Kinsley said.
During Railfest the railway celebrated the 60th anniversary of two locomotives as well as the 80th anniversary of the railroad post office car. Train rides took place three times a day during the festival. Saturday the air was filled with the live singing of conductors and Sunday a memorabilia and artifacts sale took place for those looking to take a piece of history home.
Greg Hoover, a train enthusiast from Raytown, Mo. has brought his grandchildren to ride on the Midland Railway for years. He thinks the trains are a way to remember and appreciate past times.
"The best part is the trains and just having a piece of history, something that's from our past. These guys come here and they really have pride in what they have and restoring it and keeping it alive," Hoover said. "It helps us remember where we come from and what we do. I love it."
The ride on the locomotives was extra special for certain people.
Herb Crawford, a retired railroad postal clerk, spent his time on the train reliving what was once a lifestyle for him.
"I rode over a million miles in a mail car," Crawford said. "We were the elite of the post office at that time."
The clerks of the Railway Mail Service sped the process of mail delivery. The clerks would sort mail while on the train, and had to know schemes to make sure the mail was sorted in time and dropped off at the right place.
"You had to have a lot of knowledge. I had to know exactly where the towns were, what lines they were on, or what cities they were going out of," Crawford said.
Working on the railway consisted of long days and teamwork. The clerks would work nonstop from the point when they boarded the train until reaching their final destination before turning around and heading back to their starting point.
Charles Hagen, who was a railroad postal clerk from 1956 to 1967, said working on the train took bravery, especially when getting the call to come work in Kansas City.
"It was kind of scary being a country boy in the big city," Hagen said.
Crawford and Hagen alike both agree that life on the locomotive isn't something they could do now, but they miss the time they had as postal clerks.
"It didn't hit me until about three or four weeks after they took the trains off, and then I cried like a baby," Crawford said.