Hartzell leads boys' team;
BHS

girls cruise to victory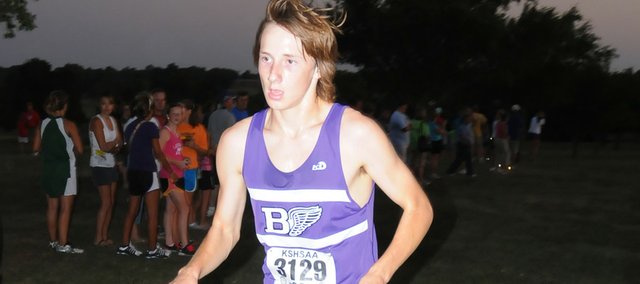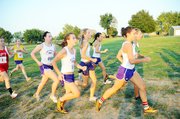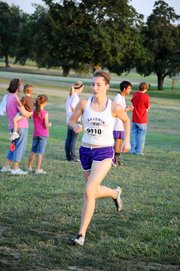 GARNETT — By the time Ethan Hartzell finished the 5-kilometer cross country race here last Thursday, the sun had nearly set and the golf course was almost dark.
The only good part for him — he won the race. The Baldwin High School sophomore won his first cross country race while battling fading daylight. Hartzell's winning time was 17:51.78.
"It went pretty well," Hartzell said. "I was happy with it. I felt pretty good, which was nice."
The boys' race finished after the sun set because the start of the meet was moved back two hours. With temperatures above 100 degrees, race officialls moved the start from 4 p.m. to 6 p.m. The high school teams ran after 7 p.m.
"I was really happy with our meet," Spielman said. "With everything that happened with the weather, I was glad we got to start and got it in. Everybody got one meet in and now we have a direction of where we need to go for the season."
Hartzell was followed closely by senior Tosh Mihesuah, who finished second in a time of 18:01.06. Senior Brian Wright rounded out the Bulldogs' top three runners with a fourth-place finish.
"I wanted to go out and run a nice even race," Hartzell said. "We didn't want to start out too fast, but we moved up as the race went on."
Also running varsity were sophomore Tucker Clark (22nd), junior Colton Horne (37th) and Brock Randels (73rd).
"The top three are going to be there," Spielman said. "We just have to work those guys up closer to our top three each race. After those top three, everyone else is new to running varsity."
Despite three runners in the top four finishers, the Bulldogs took second as a team with 64 points. Chanute won the boys' title as it scored 45 points.
"I was really happy," Spielman said. "I think we've done this a bunch of years now. We always start a little slow at the first meet and there are a lot of teams beating us. But we do a good job of moving up late in the year."
Meanwhile, the BHS girls' squad rolled through the first meet with ease. The Bulldogs dominated the meet with six of the top nine runners.
Baldwin scored 26 team points and beat second-place Chanute by 51 points. Eudora placed third with a score of 107.
"We had some really strong packs," Spielman said. "That's going to be strong for us all year, because we have so many that we can pack up and get up in there each race."
Sophomore Katie Jones led BHS with a second-place finish in a time of 17:21.37. Senior Carol Whaley (4th, 17:31.59) junior Elena Watson (5th, 17:33.96), junior Kaitlyn Barnes (7th, 17:51.78), senior Abi Hartzell (8th, 17:54.56) and junior Sienna Durr (9th, 17:55.5) all finished in the top 10. Sophomore Hannah Hutton was the seventh runner as she finished 14th.
"They did a nice job of starting off easy and gradually building up," Spielman said. "We probably could have run with that girl if we would have started out up there, but that's ok for early in the year."
The Bulldogs' junior varsity team finished fifth among all varsity and JV teams. If a JV race was run, they would have owned the top seven individual spots.
The top seven BHS JV runners were sophomore Libby Verhaeghe, sophomore Ashton Temple, senior Elizabeth Sigvaldson, junior Kelsey Dighans, junior Glenn Kelley McCabe, junior Callie Enick and junior Miriam Conath.
"We are very fortunate to be very deep," Spielman said. "That will show with our JV team this year."
Baldwin will next run at the Wamego Invitational on Saturday. The meet begins at 9 a.m.