BHS

volleyball squad begins home stand with loss to Spring Hill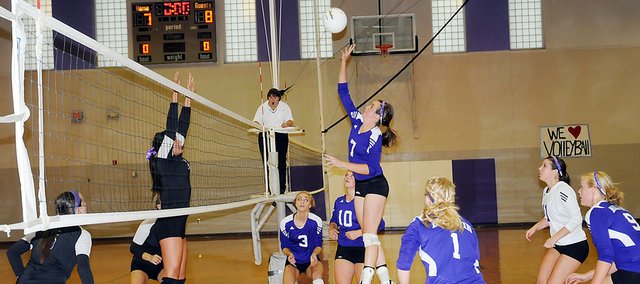 Baldwin High School volleyball's first home night of the week was one the players and coaches would like to move on from before its next two home outings this week.
The varsity Bulldogs (1-3) dropped three-straight games to Spring Hill in their first Frontier League action of the season. Spring Hill won 25-16, 25-19 and 25-22.
"It's tough to take a loss," coach Kelly Brown said. "Our girls played competitive ball tonight and they worked hard, communicated and done everything that we've asked them to do. There are a few things we need to tweak, but we will fix those.
"Spring Hill came at us with more offensive weapons than we've seen this year," she said. "We didn't react quick enough defensively."
Despite the sweep by the Broncos, the BHS players and Brown thought the team played better than it did last week at Basehor-Linwood.
"The girls said they felt like they played better than last week," Brown said. "They felt like they improved and if we keep improving on things, we'll be ready when it counts later in the season."
Baldwin hung close in all three games Tuesday until the score reached around 15. BHS led the first one 14-12, before Spring Hill closed the game with a 13-2 run.
In the third game, the teams battled back and forth late. It was tied 21-21 and the Broncos again finished strong and won the game.
"That says that we have some tools and things to take advantage of during the games," Brown said. "We have some weapons, but we just have to figure out when and where to use them. That's something that comes over time."
The junior varsity and freshman/sophomore Bulldogs beat Spring Hill in straight games. The JV won 25-19 and 25-20, while the freshman squad won 25-13 and 25-16.
Baldwin will host Tonganoxie at 5 p.m. tonight. On Saturday, the Bulldogs will host the Baldwin Invitational Tournament, which starts at 8 a.m.
"We have a great week at home," Brown said. "We will just keep getting better and that's all we can as, right now."