Baldwin Education Foundation awards 41 teachers with grants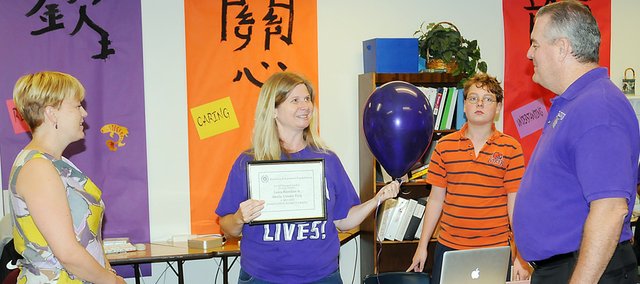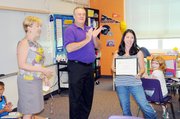 Laura Beaulieu was one of more than a dozen teachers who were surprised by the Baldwin Education Foundation "Pawz Patrol" Friday morning.
During Beaulieu's second-hour class, BEF Executive Director Kathy Gerstner, Superintendent Paul Dorathy, BEF Board of Trustees President Patty Irick and BHS Principal Rob McKim walked in with a surprise. They came with a plaque, balloon and check for the longtime BHS resource room teacher.
"I had really forgotten that Friday was the announcement day," Beaulieu said. "I was working with my students and looked up to see the entourage of people in my room."
Beaulieu was one of many USD 348 teachers that received the BEF Innovative Project Grants. Friday was the annual day for the "Pawz Patrol" to go to each school, walk in classrooms and shock teachers and students.
"I was 'off the charts' excited about receiving the BEF grant for our Mardi Gras Diversity Awareness Day celebration," she said. "With the grant money, we can now carry that message of celebrating diversity to a deeper level and have more community involvement."
The excitement given off by the students and teachers is easily noticed by members of the "Pawz Patrol" and it helps make their job easier every year.
"It just makes everything we do worth while," Gerstner said. "To see all of the hard work come together and to see everyone excited about their awards. It's really exciting."
The "Pawz Patrol" has become an annual tradition shortly after the start of the school year. The members change each year, but Dorathy, Gerstner and Irick are always regulars. They are joined by building principals and occasionally school board members.
This year's team distributed 20 grants to 41 teachers worth $13,114. The six-year total for the BEF Innovative Grants has totaled $50,520.
"A lot of that is due to our fundraising efforts and the generosity of our community," Gerstner said. "Because of that, we are able to award more and more each year and put that money back in the classroom for our teachers and students. It just shows how important education is in our town."
Six of the grants involve more than one teacher. Four of them have the potential to involve the entire student body at Baldwin High School, Baldwin Junior High School and Baldwin Elementary School Intermediate Center.
"One thing teachers are doing really well is working together to submit applications," Gerstner said. "There are a number of recipients that are doing things as a group. That way it covers more students."
One of those group grants is Beaulieu's "Mardi Gras Diverstity Awareness Celebration." The other BHS staff members who are a part of the grant are Sheila VanderTuig, Will Cooper, Sandra Lawson, Christy Carlisle, Kit Harris, Stacy Smith and Jill Venable.
This year will mark the fourth year for the event. The BHS Our Life Skills class, student volunteers and special education staff will plan a day of activities for students with moderate to severe disabilities from area high schools, including Wellsville, Eudora, Ottawa, De Soto, Spring Hill and Gardner.
The event will start with an all-school assembly and Mardi Gras beads for everyone. The assemblies have involved musical performances and wheelchair basketball games. The BHS culinary team serves a New Orleans' style lunch to about 100 guests. After lunch, the student volunteers help run stations, such as face painting, crafts, Sony Playstation, Nintendo Wii and carnival games for the student guests from other schools. The day ends with BHS band members leading a Mardi Gras parade through the school.
"Staff members from other schools have been amazed at how much student volunteer participation we have had and how the day is embraced by the whole school," Beaulieu said. "Our students will be future employers and colleagues of people with disabilities. They will help change perceptions and make others aware that people with disabilities are truly capable of so many things."
While the group grants have grown in popularity, grants requesting technology devices have also become increasingly more popular. Those teachers who received their grant for technology purchases began contacting Rexanna Sanders, district technology support coordinator, Friday morning.
"We had a lot of technology requests this year," Gerstner said. "The kids respond so well to those. You can tell by their reactions. They were jumping up and down and screaming over those. They are very motivated by new technology. It's a fun, fun day."
The grant recipients were:
Amy Anderson, Cybil Coates, Betsy Daniel, Barb Schwering, BESPC Kindergarten, Learning While Moving, $560
· Debbie Ellebracht, BESPC Music, D.R.U.M., $750
·Holly Gaylord, BESPC PE, Turtle Scooter, $100
·Michelle Leeker, BESPC 3rd, Learning Apps in the Classroom, $750
·Michel Bonham, Jessica Barker & Mary Bessey, BESIC, Character Council, $750
· Jody Coleman, Kathy Dorsey, JoAnn Heins, Cathy Maxon, Nicole Neil, Sara Oberheide, Nancy Parr, Danita Price, Alica Thomas & Heather Wallsmith, BESIC Book of the Month Club, $750
· Kathleen Dorsey, BESIC 5th, iPod Touches to the Rescue, $750
· Kim Heckathorne, BESIC PE, Character Education through Sportsmanship, $192
· JoAnn Heins, BESIC 4th, Student Motivation: There's an App for That, $617
· Claire Kueffer, BESIC, iCan Do It Myself Project, $653
· Nancy Parr, BESIC 4th, Using an iPod to Improve Reading & Math Fluency, $570
· Danita Price, BESIC 4th, Learning at the Touch of Our Hands, $743
· Penny Hughs, BJHS, Greenhouse Gardening, $750
· Laura McCall, BJHS, Bulldogs Believe (We are a great school), $750
· Beth Nelson & Will Cooper, BHS/BJHS Music, SmartMusic Interactive Music Software, $1244 (this grant is presented in partnership with Baldwin State Bank
· Danielle Balsman & Natalie Schmidt-Konkel, BHS, IdeaPaint, $625
· Laura Beaulieu, Sheila VanderTuig, Will Cooper, Sandra Lawson, Christy Carlisle, Kit Harris, Stacy Smith, Jill Venable, BHS, Mardi Gras Diversity Awareness Celebration, $750
· Nikki Burnett, BHS Chemistry, Using Case Studies to Teach Science, $750
· Kit Harris, BHS Journalism, Journalism Photoshop Training, $756
· Lori Lampe, BHS Math, Algebra in Motion/Calculus in Motion, $310