'

Pawz Patrol' awards

BEF

Innovative grant recipients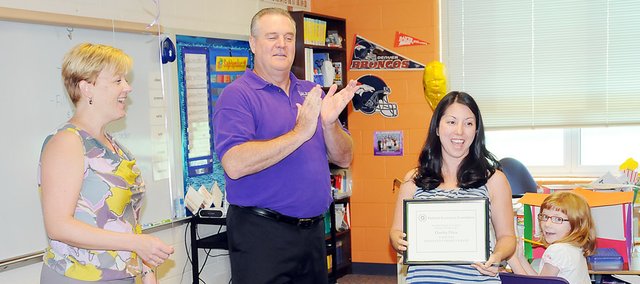 Members of the Baldwin Education Foundation "Pawz Patrol" made the rounds Friday morning and awarded 20 grants to USD 348 teachers for innovative projects.
The "Pawz Patrol" has become an annual tradition shortly after the start of the school year. BEF board members and Superintendent Paul Dorathy go to each school and surprise teachers with a plaque, balloons and a check for their grants. Joining Dorathy this year was Kathy Gerstner, executive director, and Patty Irick, board of trustees president.
"The board was extremely pleased with the number and quality of all the grant proposals," Gerstner said. "We truly appreciated the hard work of every applicant. The board wants to extend its sincere thanks to everyone who applied."
The 20 grants total $13,114 and were presented to 41 teachers. The grant recipients were:
Amy Anderson, Cybil Coates, Betsy Daniel, Barb Schwering, BESPC Kindergarten, Learning While Moving, $560
· Debbie Ellebracht, BESPC Music, D.R.U.M., $750
·Holly Gaylord, BESPC PE, Turtle Scooter, $100
·Michelle Leeker, BESPC 3rd, Learning Apps in the Classroom, $750
·Michel Bonham, Jessica Barker & Mary Bessey, BESIC, Character Council, $750
· Jody Coleman, Kathy Dorsey, JoAnn Heins, Cathy Maxon, Nicole Neil, Sara Oberheide, Nancy Parr, Danita Price, Alica Thomas & Heather Wallsmith, BESIC Book of the Month Club, $750
· Kathleen Dorsey, BESIC 5th, iPod Touches to the Rescue, $750
· Kim Heckathorne, BESIC PE, Character Education through Sportsmanship, $192
· JoAnn Heins, BESIC 4th, Student Motivation: There's an App for That, $617
· Claire Kueffer, BESIC, iCan Do It Myself Project, $653
· Nancy Parr, BESIC 4th, Using an iPod to Improve Reading & Math Fluency, $570
· Danita Price, BESIC 4th, Learning at the Touch of Our Hands, $743
· Penny Hughs, BJHS, Greenhouse Gardening, $750
· Laura McCall, BJHS, Bulldogs Believe (We are a great school), $750
· Beth Nelson & Will Cooper, BHS/BJHS Music, SmartMusic Interactive Music Software, $1244 (this grant is presented in partnership with Baldwin State Bank
· Danielle Balsman & Natalie Schmidt-Konkel, BHS, IdeaPaint, $625
· Laura Beaulieu, Sheila VanderTuig, Will Cooper, Sandra Lawson, Christy Carlisle, Kit Harris, Stacy Smith, Jill Venable, BHS, Mardi Gras Diversity Awareness Celebration, $750
· Nikki Burnett, BHS Chemistry, Using Case Studies to Teach Science, $750
· Kit Harris, BHS Journalism, Journalism Photoshop Training, $756
· Lori Lampe, BHS Math, Algebra in Motion/Calculus in Motion, $310