Bulldogs finish first, second at Anderson County Invite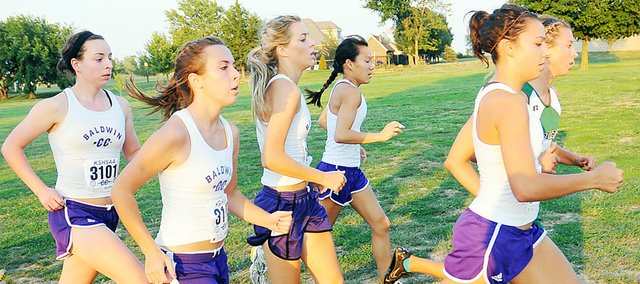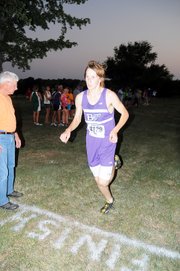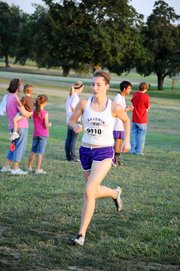 GARNETT — Baldwin High School's cross country team left here Thursday night with a pair of titles — one from each race.
Sophomore Ethan Hartzell won the boys' 5-kilometer race in a time of 17:51.78. He was followed closely by senior Tosh Mihesuah, who ran 18:01.06 to place second. Senior Brian Wright rounded out the boys' top three runners as finished fourth.
Also running varsity were sophomore Tucker Clark (22nd), junior Colton Horne (37th) and Brock Randels (73rd).
The BHS boys finished runner-up as a team with 64 points. Chanute won the boys' title as it scored 45 points.
Baldwin's other title from the opening meet was the girls' team championship. The Bulldogs dominated the meet with six of the top nine runners. They scored 26 team points and beat second-place Chanute by 51 points.
Sophomore Katie Jones led BHS with a second-place finish in a time of 17:21.37. Senior Carol Whaley (4th, 17:31.59) junior Elena Watson (5th, 17:33.96), junior Kaitlyn Barnes (7th, 17:51.78), senior Abi Hartzell (8th, 17:54.56) and junior Sienna Durr (9th, 17:55.5) all finished in the top 10. Sophomore Hannah Hutton was the seventh runner as she finished 14th.
The Bulldogs' junior varsity team finished fifth among all varsity and JV teams. If a JV race was run, they would have owned the top seven individual spots.
There will be a full story in next week's Signal.