New
USD

348 Performing Arts Center officially open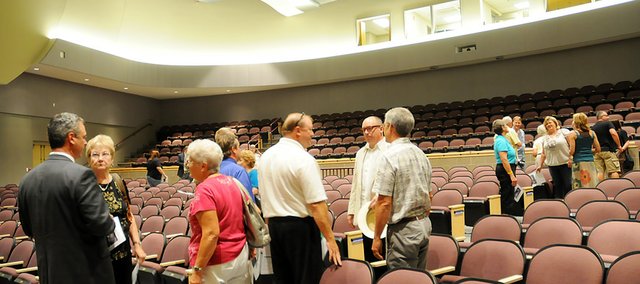 Brad Neuenswander, a 1983 Baldwin High School graduate who now works for the Kansas Department of Education, helped officially dedicate the new USD 348 Performing Arts Center Tuesday evening.
The Baldwin school district had its open house for the newest facility in the district. It officially opened in May when the 2010-2011 school year was coming to a close. USD 348 personnel decided to wait on a dedication ceremony until the fall when students and staff were back in session.
Neuenswander was the guest of honor Tuesday for the ribbon cutting and open house ceremony. The BHS graduate is the KSDE director of teaching and learning.
"Thank you (Superintendent) Paul (Dorathy) so much for inviting me here," Neuenswander said. "Board members, I ask you to stand and take a round of applause. You guys are amazing for what you've provided to your students."
He began his short speech by talking about how education has become primarily about the state assessments and less on the arts. That's one reason he was excited to be on hand at the ceremony at his former school district.
"As a state and a nation, we've started focusing so much on reading, writing and arithmetic that we hold schools accountable for how students do on a certain day on a certain set of standards" Neuenswander said. "It's taken our focus away from the whole child. We all know that. I applaud the board members and patrons of this community for standing up in front of everyone and saying this is what's important to our kids."
Present and past school board members were at the ceremony, along with USD 348 staff members and patrons. They were able to tour the facility that connects with Baldwin Junior High School, but also connects with BHS with a covered walkway.
"I'm very proud to be standing in this facility today," School Board President Ande Parks said. "This building offers learning opportunities that our students didn't have before this was built. This is a culmination of the hard work of dozens of district staff members, administrators, board members, parents and community members."
One of the staff members at the ceremony was longtime BHS and BJHS band instructor Will Cooper. He's toured the facility many times during the construction and final phases, but he's still impressed with it each time he walks inside.
"We are very impressed," Cooper said. "We are very happy with it. We're still learning and getting some bugs out, but what we've used so far, we're very happy with. Everybody has been really good about helping out and learning. It's nice that DLR, Manning Construction and the state folks came here tonight. It's nice that they have a vested interest in it, too."
The BHS band and choir each performed one song for the guests. It was the first official performance for each group inside the new PAC.
"That's the first time we've performed here," Cooper said. "I think the kids liked it. I would like to hear it from the front, but I thought t sounded well."
The new facility has 625 seats and cost $6.1 million. It includes state-of-the-art modern lighting, rigging and sound systems. It has a larger performance stage and improved acoustics.
It is also designed as a Federal Emergency Management Agency storm shelter to withstand an EF-5 tornado and can shelter 1,635 people. A new lobby was constructed for the PAC and BJHS gym. It will be used as an activity entrance on the north side of BJHS.