LMH

5k run/walk attendance beat surrounding towns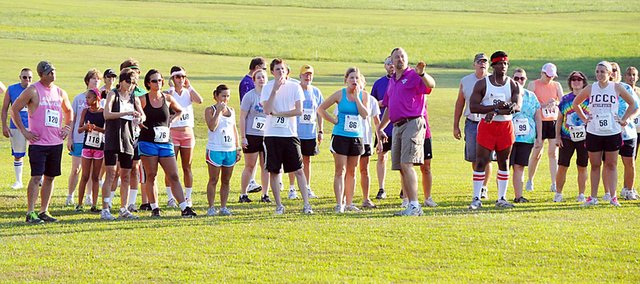 Although Saturday's Small Town Big Cause 5-kilometer run/walk was a fundraising event, Baldwin City's Cheryl McCrary admitted there was some friendly competition between locals and surrounding communities.
Lawrence Memorial Hospital's Endowment Association was the host of three 5K events this summer in Baldwin City, Tonganoxie and Eudora. LMH had the final run/walk Saturday at the Baldwin City Municipal Golf Course, while the previous two events were in July.
Although there was no official contest to have the most participants, Baldwin City organizers were pleased to have the most with 90 runners and walkers.
"I believe we had more runners at our event than they had at the Tonganoxie and Eudora runs," Cheryl McCrary said. "That's a little private competition. I know Peach (Madl) and I want to have the most runners at our event."
Heather Ackerly, foundation and corporate relations manager, confirmed McCrary's belief about the most participants.
"Of the three races this year, Baldwin City had the most runners," Ackerly said. "We had 90 runners on Saturday, which was fantastic. I don't want to compare to the other runs too much, but those were held earlier in the summer during that wonderful heat wave. Baldwin City certainly lucked out as far as the weather."
Baldwin City's 90 runners and walkers was a few less than last year, but the third-annual event added a new twist to attract more participants. A team competition was added this year and three trophies were given out at the end of the event.
Rodrock Chiropractic won the team contest for most participants and wildest outfits for its 70s attire. Bulldog Days won the contest for the top three runners to finish.
"It was a great event," Ackerly said. "We had great weather. Everybody seemed to be enthusiastic, especially the Rodrock group, who came out and raced in their 70s costumes."
McCrary was happy her team won the best finish, saying she will recruit more runners for her team next year.
"Rodrock's team brought a lot of runners to the event, which was great," McCrary said. "However, our Dog Days team won the trophy for top three finishers We also won six of the age-group winners from Dog Days. That was really cool."
Alex Beecher, a 2006 Baldwin High School graduate, won the 5k race in a time of 20:00. He was one of the Bulldog Days' runners.
Each event was a fundraiser for the LMH Endowment Association. One-half of the money raised this year for each event will be given back to the community that hosted the run.
"It does raise some money each year for the endowment association," Ackerly said. "The main focus is to do a community wellness event to get people out and moving. This year we are going to be donating half of the proceeds of the Baldwin City event back to a wellness or health-related project in Baldwin City."
Baldwin City residents will help decide how the money will be spent. Applications will be turned in to the LMH Endowment Association and members of a committee will determine the course of action. The application process should begin later this month or early October.
"It will be limited by the creativity of the folks down there in Baldwin," Ackerly said. "It might be walking trail or a children's fitness program. We are anxious to see what ideas we get from the community."