Robin Hood, merry men join fray at
KC

Renaissance Festival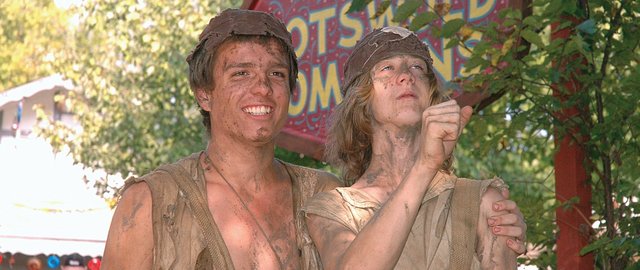 Photo Gallery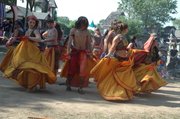 Kansas City Renaissance Festival
The Kansas City Renaissance Festival closed its 34th season Oct. 17. The annual festival in Bonner Springs offered old-world entertainment in the form of games, dancing, theatrical performances and more.
Now that fall is here, many in the area certainly are giving a hearty "Huzzah!" of excitement.
That's because they know that the town of Canterbury, and all its colorful, costumed characters, soon will be brought to life again by the Kansas City Renaissance Festival, which kicks off Saturday.

The festival is celebrating 35 years of existence in the fairgrounds at 628 N. 126th St. in Bonner Springs. Karla Taylor, director of food, beverage and site operations, has been with the festival for 34 years, and she remembers well those early years when the site was a virtually blank canvas on which organizers could paint.

"It was just a great location," Taylor said of the festival that was originally started by the Kansas City Art Institute as a fundraising vehicle, though is now privately owned by MidAmerica Festivals. "It was all nothing but woods here and it was just a perfect spot for a show to begin."
That location, situated on about 16 acres of land tucked between Capitol Federal Park at Sandstone and the National Agricultural Center and Hall of Fame, has now blossomed into the thriving and realistic interpretation of a town in the renaissance period festival goers have come to love today. Taylor said planning for this year's festival started in January, and she and Roger Clements, director of marketing and sales, say attendees will be impressed with what they see upon entering the festival gates.
"We could open tomorrow, that's how good the site looks," Clements said. "We could have opened a month ago, that's how good the site looks."
This year's theme will be the story of Robin Hood and Maid Marian. Daily attractions surrounding the theme will include a tournament during which Robin Hood and his Merry Men will battle the evil duchess and her knights to determine who among them is the strongest in Canterbury.
About 500 performers will take on other roles, as well, creating a bustling, diverse town that includes fairies, gypsies, musicians, and the king and queen and royal court. One of those performers will be Lauren Rhodus, 25, a Basehor-Linwood High School graduate who has been a featured performer with the Kansas City Renaissance Festival since 2003. Rhodus portrays a fairy named Fern, and she says she never grows tired of bringing her character back to life each season. Designing and building her own beautiful fairy costumes is a big plus, as well.
"You know, it's kind of my happy place," Rhodus, who also regularly performs at renaissance festivals across the country, said of volunteering her time and efforts — festival performers are unpaid and must make their own costumes. "I look forward to it every year. But, also from a creative standpoint, I'm a costumer, and it's just great to get out and see my friends and perform with them and show them my new costume. It's an excuse to build a new costume every year; to get to wear a pretty dress."
The regular array of jousts, games, carnivals, Shakespearean performances and the like will be on the menu, but added to those attractions will be a queen's tea party, where attendees can enjoy tea, music and dainty cucumber sandwiches with the queen and her princesses. Other new attractions will include choral performances on the new choral pavilion stage.
The renaissance festival also this season will participate in its sister cities discount program. Each weekend, attendees from a chosen city will get $4 off tickets purchased at the gate with photo identification. Although, this weekend, the sister city will be Joplin, Mo., and Clements said, in deference to the destruction left by the May tornado, any attendee from Joplin and their guests will receive free admission with photo identification.
Other sister cities over the run of the festival will include Lawrence, Topeka, Columbia, Mo., and Springfield, Mo.
More information about attractions, events, ticket prices and additional discounts and promotions can be found online at kcrenfest.com, by calling the festival at (913) 721-2110, or by liking the Kansas City Renaissance Festival on Facebook.
The festival will be open from 10 a.m. to 7 p.m. Saturdays and Sundays, rain or shine, beginning Sept. 3. It will also be open Labor Day, Sept. 5, and Columbus Day, Oct. 8.