Flyover adds excitement to
CSO

back-to-school picnic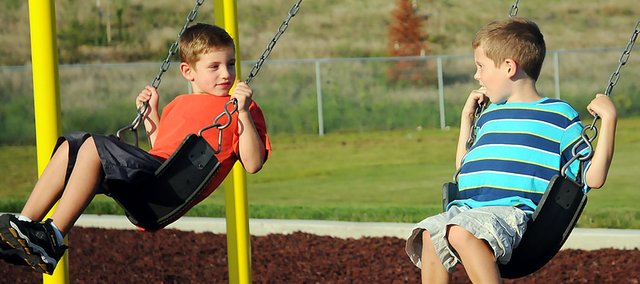 One week after completing their first full-day of classes, USD 348 elementary students officially welcomed the new year with a school-wide family picnic.
The Baldwin Elementary Schools' Community Service Organization (formerly known as the Parent Teacher Organization) hosted its second annual back-to-school family picnic night/pledge drive kick-off last Thursday. Hundreds of students from Baldwin Elementary School Primary Center and Baldwin Elementary School Intermediate Center and their families came out to BESPC for a night of social interaction.
"I was really happy with the turnout," CSO President Kelley Bethell-Smith said. "I didn't have a chance to actually do a head count, but we purchased 672 popsicle treats and we had only a couple boxes of 12 left. I know a few kids may have had more than one, but we thought there were between 300-400 people there during the night. I was really happy with how many people came out for the event."
"We couldn't have asked for better weather," she said. "It had been so hot during the few days before the event and I didn't think that would be very conducive to our picnic. It cooled off a few degrees and it was lovely night."
The family picnic night/pledge drive kickoff to the school year began last year when the new BESPC opened its doors for the first time in late August 2010. Both Baldwin City elementary schools expanded this year when the USD 348 Board of Education voted to close Marion Springs Elementary School and Vinland Elementary School.
"This year, I was passionate about trying to make the event extra special as a way to celebrate, not only our returning students, but also our many new students and families," Bethell-Smith said. "We wanted to set a positive tone during this new time in our schools and district's history. We wanted kids to know what it meant to take flight in their education."
To make the event extra special, Bethell-Smith contacted a Lawrence pilot about performing a flyover during the event. After explaining the event and it's motto "Taking Flight Into a New Year", the pilot agreed to do the flyover free of charge. Around 6:30 p.m. last Thursday, two airplanes flew over BESPC once before looping around several times.
"That was very exciting," Bethell-Smith said. "It was a great thing, but what made it even better was that was all donated for free. The entire flyover extravaganza was at zero cost to the school. I wouldn't have done it differently, because it is expensive to do that, especially with multiple planes and in formation."
She continued, saying the event and flyover worked great into the CSO's theme for the school year.
"The whole idea behind doing the event this way is the CSO believes children's ability to learn and have as many opportunities as possible significantly increases when they are enveloped in a spirit of fun, warmth and community," Bethell-Smith said. "That's exactly the tone that we were trying to set from the very beginning of our school year."