Bulldogs overcome inconsistent play to pick up win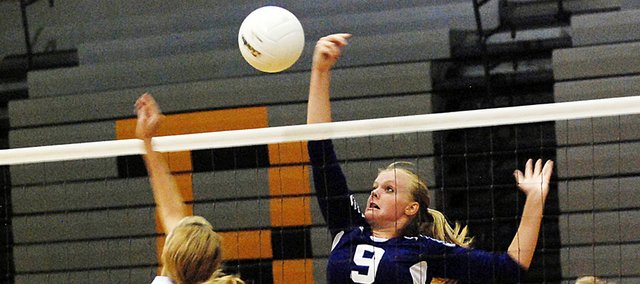 Opening night of the season didn't end up like Kelly Brown wished, but she was happy her team finished the night with a come-from-behind victory.
Baldwin High School's volleyball squad finished its first night of action 1-2. The Bulldogs didn't lose any game by more than five points.
"We can definitely play better," senior Lakyn Clark said. "Some things went well and some didn't. We know what we need to work on now. We saw some good things that we can definitely build on from tonight."
After falling to Eudora and host Basehor-Linwood, the Bulldogs defeated Bonner Springs in three games. Bonner Springs won the first game 25-23, but Baldwin avoided a loss by winning the next 25-21. In the final game of the night, Baldwin won 25-19 to beat the Braves.
"It was nice to come back and win," Brown said. "The girls showed a lot of fight to come back and win the last two games. They fought hard."
Before the last match of the night, Brown moved senior Madeline Brungardt from outside hitter to middle hitter and moved freshman Corey Valentine from middle to outside hitter. She said Brungardt's defense at middle hitter was more beneficial for the Bulldogs, but Brown also said both players performed well during the last match.
"We ended up changing the line up at the start of the Bonner match," Brown said. "We needed a little bit more defense out of the middle of the front row than offense on the outside. We like that lineup worked. We saw some great things and great play out of everyone in the Bonner match."
Baldwin began the night against rival Eudora. BHS lost a close first game 26-24, but dominated the second game, 25-17. However, too many mistakes cost Baldwin in the third game as it lost 25-20.
"There were definitely some nerves tonight," Clark said. "I know I was nervous. I think getting the first night out of the way is good, because now we are ready for the rest of the season."
Brown agreed with Clark, adding that emotions and nerves got the better of the Bulldogs in the opening match.
"Our first match of the night was a tough battle with Eudora," she said. "The girls always want to beat Eudora and there is an extra oomph in them when we play Eudora. We had some very inconsistent serving and serve receive passing. We couldn't quite get it together at the net offensively and we really struggled to come together as a whole the first match out. I think that playing Eudora out of the gate was a little nerve racking for the girls.
In the second match of the night, the Bulldogs lost to Basehor-Linwood in two games, 25-23 and 25-22. Basehor also beat Bonner Springs and Eudora in two games each.
"Basehor was an aggressive serving team and we couldn't get our serve-receive together against them," Brown said. "Basehor was also very aggressive at the net and they had a great setter."
Clark said the Bulldogs played well at times Tuesday, but they were inconsistent. She also said they have several areas to improve before they play again.
"Our offense was good when we actually had a chance to run it," Clark said. "We just have to make better passes. We definitely need to work on serve receive."
Baldwin will play at home on three different occasions next week. They host Spring Hill on Tuesday, Tonganoxie on Sept. 8 and the Baldwin Invitational Tournament on Sept. 10.
"We have three at home next week," Brown said. "The girls are excited about that and about the home crowd. Last year, we had a great BIT and I think they are looking forward to a great week at home."