BHS

football opens with Paola on Friday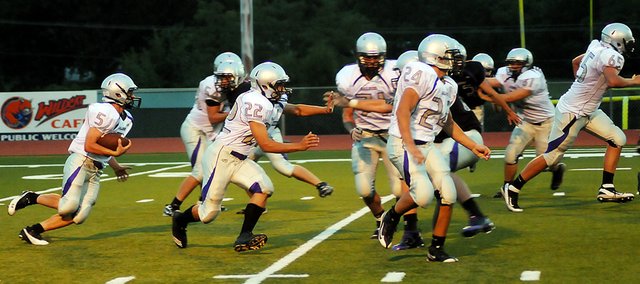 It's been less than 10 months since Baldwin High School's football team took the field for a game, but Mike Berg doesn't have to be reminded twice who his team opens the 2011 season against Friday.
Berg's Bulldogs were beaten at Paola last November in the Class 4A state playoffs. It was a cold, rainy, sloppy night that Berg would like to forget. However, his focus during the past three weeks and particularly this week has been the rival Panthers.
"The kids remember they knocked us out of the playoffs last year," Berg said. "We shocked them in the first game, but they got revenge on us. They proved us wrong in that second game. That's what we have to do this year against a team that returns more players than us. We're not picked to win."
Senior Tyler Brenn is one Bulldog who played in both games last year and he will be looking to avenge the playoff loss.
"They kicked us out of state last year," Brenn said. "We have to get back at them this year. It will be a tough game, but we're ready."
Baldwin surprised the Panthers in the 2010 opening game. BHS was coming off a two-win season in 2009 with many of the same players returning to the roster. Despite being heavy underdogs, the Bulldogs lit up Paola 32-14 on the road.
Paola returned the favor in the final game of the season. Neither team managed much offense, but Paola won 21-6. Baldwin lost more than a dozen players to graduation, while Paola returns the majority of its players. The Panthers did lose tailback Skylar Hawkins.
"Paola does what Paola does," Berg said. "They are going to run option and pound it at us."
Baldwin should also be a strong rushing team this fall as it was a year ago, but in a different style. Last fall, the Bulldogs used power and some speed on the outside. This year's squad lacks the same amount of power, but has several backs with speed.
"If you look at our backfield, our entire backfield is gone from last year," Berg said. "Last year's seniors were back there 90 percent of the time. We have a lot of new faces who were here last year, but playing on Mondays instead of Fridays. The speed of the game is what they are going to have to grasp. Come Friday night, under the lights, it's a faster game."
The Bulldogs are also hoping for speed at the wide receiver position. Senior Asher Hannon, who medaled at state track in the 100-meter dash, returns as a wideout. Junior Dayton Valentine returns as tight end for the Bulldogs and he gives a size and strength element to the offense. BHS will also be looking toward underclassmen as running backs and wide receivers.
"We've got kids that if we can get them in open spaces, they are going to make some people miss," Berg said. "That's exciting to have, because any play can go to the house. We just have to get our linemen to stay on their blocks and not worry about what's going on behind them."
Brenn agreed about the offensive line being the key to the Bulldogs' success this fall.
"We're definitely smaller, but we are faster," Brenn said. "We retired 14 seniors, I believe. We don't have as much size, but we are still strong up front and we're quicker. It's all about the feet on the line. You can have big boys, but if they have slow feet, it doesn't matter. It's all about feet."
While the personnel has changed from a year ago, the Bulldogs' offense remains the same. They are still running the single wing formation that has brought success since it was implemented in 2007.
"We're still a single wing team with multiple formations," Berg said. "We're able to throw the ball a bit more this year, because we have the receivers and returning tight end. We are going to be a balanced offense."
On defense, Baldwin also lost many seniors from the 2010 team. BHS will be relying on many of the same players from the offense to fill the gaps on defense. Despite the many changes from a year ago, the Bulldogs' coach is ready to open the season Friday.
"I'm really excited, because I'm not sure what to expect with a fairly new team," Berg said. "It brings a lot of excitement. I know a lot of our seniors are anxious and ready to step up and show that we haven't lost anything. Having new guys in different positions, there is still a learning curve there."
Prior to Friday's game, the 12th annual Bulldog Bash will be taking place northwest of Liston Stadium. It's the annual tailgate fundraiser for the school district.
"Oh yeah, the Bash always bring people out," Brenn said. "We'll be ready to come out and play hard."