Baldwin City narrowly trails Paola in Take Charge Challenge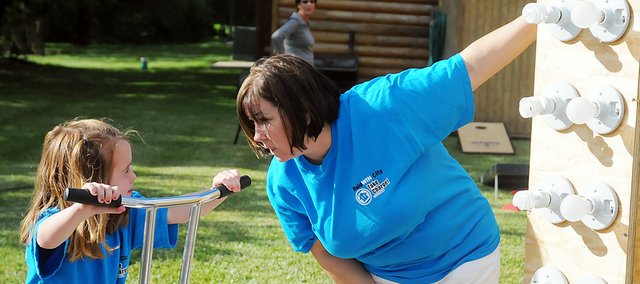 Baldwin City is within reach of winning $100,000 from the Take Charge! Challenge.
The challenge is a competition sponsored by the Climate and Energy Project and the Kansas Energy Office to see which Kansas communities can save the most energy from Jan. 1 to Sept. 30. The 16 communities competing are split into four regions, and the winner of each region will win $100,000 for a renewable energy or energy efficiency project.
Baldwin City is a part of the Northeast region and is competing against Paola, Ottawa and Gardner. Although Paola is currently in the lead, Baldwin City is close behind in the competition.
"We are just barely behind Paola. It is to the point where they almost didn't declare one of us in first because it is so close," said Eileen Horn, sustainability coordinator for Douglas County.
Baldwin City has saved 534 MNBTUs while Paola has saved 1,115 MNBTUs. MNBTU is the measurement of gas and electricity together, so the larger the number of MNBTUs saved, the better chance the community has of winning.
That might seem like a big gap "but we're actually really close behind, because they also count community engagement, and Baldwin City has done a phenomenal job, better than any other community in their region, in engaging citizens of Baldwin City in this effort," Horn said.
The standings in the competition are calculated through three categories and are scored on a per-capita basis. The categories are "whole house" energy efficiency retrofits, which are energy audits, energy efficiency measures that include the switch to compact fluorescent light bulbs and the installation of programmable thermostats, and community participation in the Take Charge! Challenge.
Scoring is on a per capita basis because of the different populations of cities. Although Paola may have more people switch over to energy efficient light bulbs, its population is larger than Baldwin City, so Baldwin might have a larger percentage of its population switch even if it is less people than Paola, which would put Baldwin in the lead in that category.
"Baldwin City is doing very well in category three, so that is helping us to catch up, but what we really need to work on is category one and category two," Horn said.
Baldwin City's Take Charge! leadership team has been meeting once a month to plan ways to help the city win the competition. The leadership team is made up of city staff, committed residents and energy experts.
"I went to one of the (Take Charge!) functions at The Lodge and decided I wanted to get involved in it to help spread awareness," said Joel Bates, energy auditor and a member of the Baldwin City Take Charge! leadership team,.
Bates said the challenge was helping the Baldwin City community to realize how important energy conservation was.
"In my home I changed out my light bulbs, the thermostat and I really think it is something that we all need to take a look at," Bates said.
The contest ends Sept. 30, so the leadership team is having its big final push Friday at the Bulldog Bash.
Starting at 5 p.m. the Take Charge! team will have a booth with free digital programmable thermostats for the first 100 people to come to the booth.
Those people will be able to count the thermostat change in category two, which is where Baldwin City needs to catch up.
The booth will also be giving away 500 free compact fluorescent bulbs.
"(Residents) can go to TakeChargeKS.org and help Baldwin City win just by saying how many bulbs they've switched in their home since January when the contest started." Horn said.
If Baldwin City wins the competition, the money will be spent for energy-efficient light fixtures for city buildings as well as the junior high and high school gymnasium. The remaining money will be used for solar energy applications for the city, such as a solar panel to help run the fountain downtown and to power some of the city buildings.
"We're really close and this is real," Horn said. "This is $100,000 for some really important projects for the community."
— Meagan Thomas is a Baker University student majoring in journalism and is participating in an internship this semester at The Signal.