Baker dominates second half in rout of Ottawa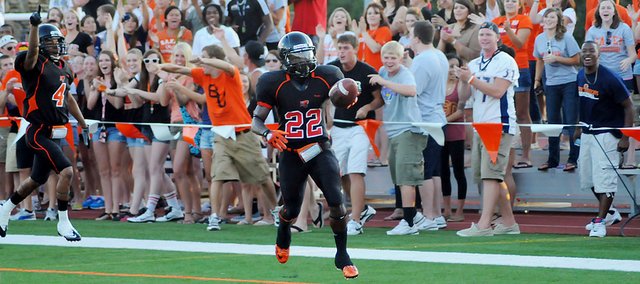 Mike Grossner's Baker University's football team was on the positive side of the turnover battle during its opening game this year.
The No. 23-ranked Wildcats crushed No. 10 Ottawa University 41-16 in the Victory Sports First Down Classic Saturday night at Liston Stadium. They avenged last year's 24-14 loss at Ottawa.
"We've been waiting a long year for this one," coach Grossner said. "I'll tell you, that's a good football team over there. We didn't finish in the redzone, but we stayed in the game with some big plays. The first half was back and forth, but we rallied at halftime on both sides of the ball. We dominated up front and that's where the game is won."
Baker's Adam Steele said the Wildcats were prepared for this game and had to defend their home turf against their rivals.
"I've been waiting for this game for 365 days," Steele said. "We've all been ready and busted it to get to this point. They haven't won at Liston Stadium since the 1970s. We weren't about to let them win again. It's nice to beat them at home. It's a big win for us and hopefully it launches our season."
The Wildcats enjoyed the victory for a short time.
"24 hours," John Babb said. "Coach said we have 24 hours to celebrate, then it's back to work."
Baker shutout the Braves 24-0 in the second half as it took advantage of four Braves turnovers. Baker recovered two fumbles and intercepted a pair of Ottawa passes.
"We were forcing turnovers this year," Grossner said. "The only things we need to fix are pre-snap errors on offense and redzone errors. If that's all we need to tweak, we'll be OK. We had some guys get dinged up, so our substitutions were off. That's why we had some pre-snap errors."
The Wildcats locked up the game with two fourth-quarter touchdowns. Grossner gambled on a fourth-down-and-goal at the 2 yard line, while clinging to a 27-16 lead with 9:03 remaining in the game.
The gamble paid off as Scott Meyer scored a two-yard rushing touchdown. Babb sealed the game with an 11-yard touchdown run with 2:53 left in the game.
"Our goal was to run it down their throat until they got tired, which they did," Babb said. "Then we took advantage in the second half and we got our yards."
Babb was named the VSN Offensive Player of the Game as he finished with 102 yards on the ground and one touchdown. Scott Meyer led the Wildcats' offense with 21 carries for 150 yards and two touchdowns.
"We tired them out in the second half," Babb said. "We knew all summer that our whole team was in pretty good shape. It was a great start to our season."
Steele, the VSN Defensive Player of the Game, finished with two interceptions and eight tackles. He wanted one interception in the game, so he was thrilled with a pair.
"It came from studying film," Steele said of his second interception. "I knew they were going to try and bring a receive on my hash, so I rocked back and made the pick. You could tell by my reaction, I was pretty excited."
Linebacker Ryder Werts also recorded an interception. Baker held Ottawa to 257 yards of offense, while racking up 488 yards.
"The big key was defensively," Grossner said. "We forced a lot of three-and-outs and turnovers. We also turned the tide on special teams this year."
Baker led 17-16 at halftime, despite missing a field goal with seconds remaining in the first half. The Wildcats scored three points in their four redzone attempts in the first half. They made one field goal, missed a field goal, lost a fumble and threw an interception, but led 17-16.
Special teams were the key for Baker during the first quarter. BU took a 14-7 lead off a 62-yard punt return by Reggie Harris. Minutes before Harris' return, Tyler Hatcher answered an Ottawa touchdown with an 82-yard kickoff return to tie the game.
"Our special teams was huge for us heading into halftime," said head coach Mike Grossner. "The way we came out after halftime really showed just how special this group is."
Sophomore quarterback Jake Morse finished with 127 yards on 11-for-27 passing with one interception.
The Wildcats return to action next Sept. 3 at Liston Stadium as they host Peru State, the newcomer to the Heart of America Athletic Conference.
"We don't know much about them," Babb said. "I'm excited to get a new opponent in here and see what they have going."