12th annual Bash set for Friday evening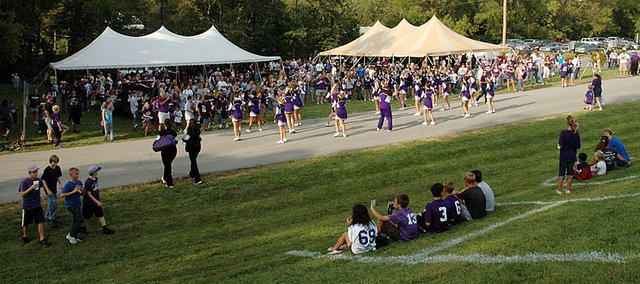 It's the time of year when all of the local fall sports teams are ready to get their game on. So it must be time for the Bulldog Bash and everyone in and around Baldwin City is invited.
The community tailgate takes place before Friday's first home Baldwin High School football game. The food, games for the kids and entertainment will begin at 5 p.m. at the corner of Second and Fremont streets. This year, there will be performances from BHS band, cheerleaders and pom squad. There is also a rumor that the Spice Girls may make an appearance at the Bash.
"It's great to start at home with the Bash," BHS football coach Mike Berg said. "Every year, it keeps coming back stronger and stronger. We're going to have a great crowd. We just hope the rain doesn't send them away like it did last year. We're expecting a great home crowd, new uniforms and the Bash. You can't ask for more."
Twelve years ago, the Bulldog Bash was started as a fundraiser solely for the implementation of junior high football, but it has since developed into an event that benefits any organization associated with the Baldwin school district. Last year, nearly one dozen school organizations sold tickets to the Bash, which brought various amounts of money into the coffers of the various organizations involved.
Groups selling Bash tickets range from the BHS band, cheer and sports teams to the Baldwin Junior High School football team.
Basically, the Bash is available to any school group that wants to work and sell tickets. Each group will make a $15 profit from each $20 ticket sold. The other $5 goes to the BHS boosters group and helps cover the event costs.
One Bash ticket is good for a family's entry into the Bash, will feed the family,and is good for the Baldwin home gridiron opener against Paola, which begins at 7 p.m. Bash tickets are also available at Santa Fe Market and at the gate Friday.
"The Bash has become a great community tradition and sense of pride" said Susan Hoffman, Bash coordinator.
At 6 p.m. the Baldwin fans line Fremont Street for the BHS Football team walk. The BHS playes and coaches will walk from Third to Second Street through hundreds of Bulldog fans.
"Just watch the faces of our kids when it's time for the six o'clock walk," Hoffman said. "You can feel the excitement in the air."