STATE

CHAMPS

: 5 in a row for Bulldogs;

BHS

boys take fifth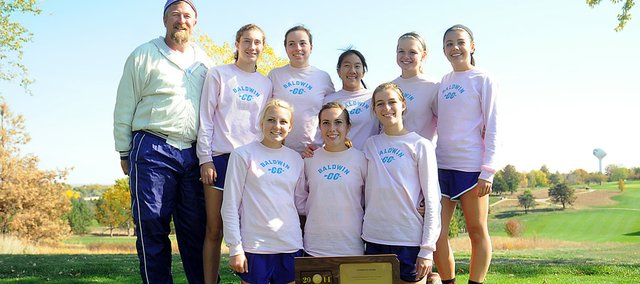 WAMEGO — Baldwin High School's girls cross country dynasty continued here Saturday at the Class 4A state meet.
While it was the fewest number of state medalists for the Bulldogs in recent years, they still easily won the state championship. BHS scored 65 team points, while second-place Maize South had 91 points.
"I was really excited about how well they ran," coach Mike Spielman said. "The kids have done a great job of keeping the tradition going. They don't want to see the streak end. They did a great job of taking care of each other and making sure the team title is the most important thing."
This year's championship marked the fifth-straight for the Bulldogs, who have now won eight of the last 10 4A state titles. They know hold the 4A record for consecutive state cross country titles.
Sophomore Katie Jones led the Bulldogs with an 11th-place finish. She ran the 4-kilometer course in a time of 16:03.91. Senior Carol Whaley was right behind Jones, running 16:04.73 and finishing 12th.
On the boys' side, Baldwin placed fifth as a team. Sophomore Ethan Hartzell led BHS with a runner-up finish to De Soto's Angel Vasquez, who won the 5-kilometer race in a time of 16:30.47. Hartzell's time was 16:44.13. Senior Tosh Mihesuah also medaled for Baldwin. His finish of 20th place was his highest ever at the state meet.
De Soto boys took home the third-place trophy on the boys' side, while Wamego won its first boys' title since 1997.