Seasoned, young competitors ready for American Royal rodeo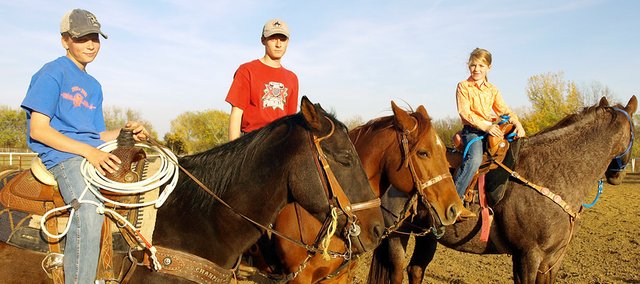 Baldwin High senior Austin Jackman doesn't compete in an activity typical of most teenagers. Neither does his seventh-grade brother Tanner. However the passion, commitment and responsibility required of them surpasses that of many other sports or hobbies.
Austin and Tanner Jackman are rodeo champions.
The two Baldwin City youths, along with Baldwin Elementary School Primary Center third-grader Lakin Cunningham, were selected to compete in the American Royal Invitational Youth Rodeo during the first week of November.
The selection for the American Royal Invitational is based on rodeo accomplishments, academics, community service and leadership.
Seventy percent of the selection is rodeo accomplishments, which all three riders are not short on.
This will be Austin's fifth year competing in the American Royal. He will compete in the high school division for team roping, and Tanner will compete in the breakaway roping event in the junior division.
Lakin is the youngest competitor selected for the junior division in barrel racing and will compete in that category.
The selection comes after a busy rodeo season for the three riders.
Kara Cunningham, Lakin's mother, said Lakin went to Louisburg to practice about three times a week plus spent weekends at competitions.
"She has been competing since she was 4. She primarily rodeos for the Christian Youth Rodeo Association, but she also competes in National Barrel Horse Association," Kara said.
Last year, Lakin got third at state and took home first this year.
Lakin got her first pony at 10-months-old and has been riding and doing rodeo ever since.
"We've had her in piano and gymnastics, basketball and softball and art. We've definitely given her opportunities to do other stuff and she likes those too, but she loves this," Kara said.
The Jackman boys aren't short of passion either.
"Almost every night we come outside, saddle the horses, practice and then we're gone almost every weekend," Austin said.
With a sport like rodeo also comes responsibility. Tanner said that was the hardest part.
"You have to feed (the horses) and water them every morning and night. You have to make sure they don't get all dirty and muddy," Tanner said. "There's just a lot of stuff that goes into it."
Dedication isn't limited to the youngsters. The parents of the riders must be equally as dedicated. Austin and Tanner's parents, and the parents and grandparents of Lakin, all take part in training and competing.
"There isn't a team to travel with. You are the team and you go with them and train them and help them prepare and practice," Leslie Jackman, mother of Austin and Tanner, said.
Despite the many practices and responsibilities and the lack of free time, the sacrifices are worth it to the Baldwin City rodeo competitors.
"I plan to rodeo as long as I can," Austin said.