Michels breaks scoreless tie, leads
BHS

to 2-0 victory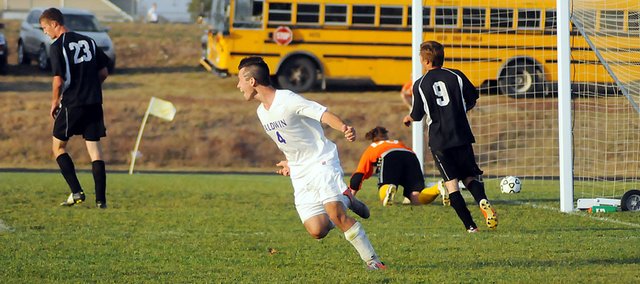 Caleb Michels helped his teammates relieve nearly 70 minutes of tension Tuesday afternoon.
The Baldwin High School senior broke a scoreless tie with 10:44 remaining in a boys' soccer playoff game at BHS. Seven minutes later, Michels scored again and locked up the victory.
"I'm tired," Michels said. "It feels so good to win. We stuck with it and kept hammering it at them them. We finally got a couple goals to go."
The Bulldogs beat Paola 2-0. They had previously beaten Paola twice this fall, but neither as close as Tuesday's playoff contest.
"When we were against the wind, we had some good chances, we just couldn't put the ball in the net," coach Mark Joslyn said. "In playoff games, that's how it is. I thought they had a terrific defense on us. I felt like we'd have more chances in the second half and we tired them out. We got a nice ball to Caleb and he put a nice one in. That was the key goal."
"I have to give credit to Paola," he said. "They played a terrific defensive game. They have improved a lot."
The BHS players were excited to beat the Panthers and move on to the next round Friday.
"I'm really excited about this win," Joslyn said. "It's great to be back in the regional final."
Both teams struggled to shoot in the first half. Paola had the wind at its back, while Baldwin faced the win during the first 40 minutes. Despite the wind, Baldwin did manage a couple of shots on goal, but neither were successful.
After halftime, they switched directions. Baldwin used the wind to its advantage and kept the ball in its attacking half of the field for the majority of the second half. BHS had several near misses on goals during the half.
"In the first half, they had the wind and they tried to keep the ball in our half of the field," L. Joslyn said. "In the second half, I'm not sure they got in our half at all. We had to try and break them down and we eventually did."
L. Joslyn found Michels down field and led him with a pass. Michels took one dribble and booted the ball past the Panthers' goalkeeper. A celebration ensued on the field with less than 11 minutes left in the contest.
"It took a lot of pressure off of the team and our defense," Michels said. "It gave our defense some confidence knowing that one goal wouldn't beat us."
The Bulldogs impressed their coach Tuesday. Although they couldn't get a goal for most of the half, he said they played smart and took their time.
"I was impressed with the guys for being patient," Joslyn said. "Sometimes that's tough when you can't score. We played in our half during the second half. I was happy with their patience."
Michels received another near-perfect assist from L. Joslyn about seven minutes later. Despite having defenders all around him, Michels scored his second goal and sealed the victory with 3:45 remaining in the game.
"He set me up pretty well," Michels said. "It's vice versa most games."
Baldwin's coach was worried about the Panthers taking a 1-0 lead in the second half or if regulation ended 0-0.
"I've seen it happen a lot," Joslyn said. "All it takes is one play. I didn't want to go into overtime either, because it would have given them more confidence."
Baldwin will host Independence at 4 p.m. Friday in the next round of the regional. The winner moves on to the state quarterfinals next week.
"It's huge to be at home, too," Joslyn said. "We don't have to travel three hours to Independence or even an hour to Spring Hill. We have all of our home fans here."