Bulldogs run well at Class 4A regional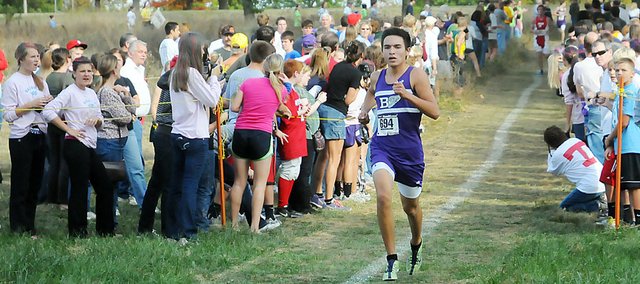 KANSAS CITY ― Baldwin High School's cross country teams are once against state bound, but they did it in two entirely different manners on Saturday at the Class 4A regional meet.
The BHS girls dominated their opponents, placing its first five girls in the top 11 runners in the 86-girl race. Meanwhile, the boys' team had concerns about not qualifying as one of the top three teams. The boys finished runner-up to De Soto.
"We couldn't have asked for anything better," coach Mike Spielman said. "We got both teams qualified. The boys did a great job of getting second place and the girls ran really well. It was a great day."
The Baldwin High boys were once again without senior Brian Wright. For the first time in more than a decade, the boys' team was concerned about not qualifying for the state meet.
"I was wondering if we were going to make it or not," senior Tosh Mihesuah said. "I knew we didn't have Brian and Ethan wasn't feeling too good today, so I was a bit nervous."
Spielman shared the same concern.
"I was thinking about that," Spielman said. "It was the first time I really had to go around checking scores and see how we did. The kids did a great job. They understood that it would be close and they all stepped up and ran well."
De Soto won the boys' meet with 42 points. Baldwin (84) and Tonganoxie (91) finished second and third.
Mihesuah was the top runner for the BHS boys' team. He set a new personal record, finished the 5-kilometer course in a time of 16 minutes, 41 seconds. Mihesuash finished runner-up to De Soto's Angel Vasquez in the race.
"I was super pumped," Mihesuah said. "I saw Ethan up there so I picked it up and gave it my all. I couldn't believe I was actually passing him, because he's usually way out there. I definitely puked my guts out after the race."
Sophomore Ethan Hartzell was the next Bulldog across the finish line. He placed fourth in a time of 16:57. Freshman Joe Pierce (18), sophomore Tucker Clark (31) and junior Colton Horne (32) were the next three Bulldogs. Senior Cory Stephens (62) and junior Acea McFarlane (75) also ran for the Bulldogs.
"I thought Tosh, Joe, Colton and Tucker had really good races," Spielman said. "They did a really nice job for us. I know Ethan didn't feel well, but we know he will get back up in there this week and be back to feeling good."
The Bulldogs are hoping to get Wright back this weekend. The senior was the second runner for BHS during most meets this fall.
"Hopefully, he will feel good enough to give it a go at state," Spielman said. "We'll just see what happens. It will be helpful if he's able to run."
Meanwhile, the BHS girls cruised to an easy regional championship. The BHS girls scored 29 points to win the meet. De Soto (83) and St. James (92) also qualified their girls' teams.
"I didn't know we were that far ahead," sophomore Katie Jones said. "We were really packed together."
Jones led the Bulldogs and everyone else. She won her first cross country meet as she finished the 4-kilometer course in a time of 15:28, which was nine seconds ahead of the runner-up.
"I thought I ran a pretty smart race," Jones said. "The first mile seemed to take forever, but the second mile went really fast.There are always a few that take out hard and they have to pay the consequences, no matter what. They start dying during the second mile and I started to kick with about 800 left. I started kicking a little early this meet, because I knew I had a shot at winning the race, but I had two girls to catch. It was one of my smartest race."
Spielman was happy Jones was able to run so well, along with her teammates, too.
"There were a bunch of them who had really good races," Spielman said. "But it was great for Katie to get a win. It's nice for her to be regional champ. She looked really good and strong."
The rest of the BHS team seemed to follow Jones into the finish chute. They were senior Carol Whaley (3), senior Abi Hartzell (6), junior Kaitlyn Barnes (8), senior Elizabeth Sigvaldson (11), sophomore Libby Verhaeghe (15) and junior Sienna Durr (22).
"I'm so excited," Sigvaldson said. "I've been working hard all season. My teammates have been very supportive of me and they've helped keep me upbeat. I was one away from medaling. I was so mad, but I still ran a great race."
The Bulldogs will run Saturday at the Wamego Country Club. The 4A girls will start the day at 10 a.m. with the 4A boys running at 11:30 a.m. Both BHS teams are defending state champions and the girls will going for its fifth-consecutive state title.
"They know what's at stake and they just have to go out and do their thing," Spielman said. "The seniors will want to end their career well, too."