Bulldogs fall to Cardinals in district title bout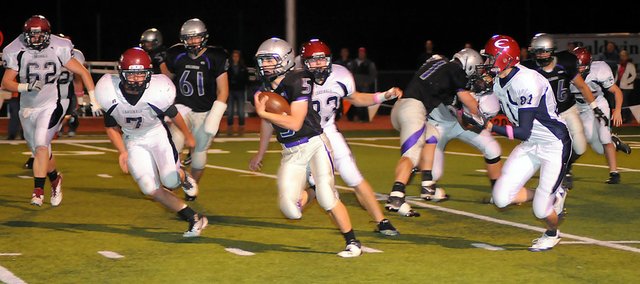 Eudora High School hit on three big running plays, two in the first quarter and one in the fourth, as it won the Class 4A district crown Thursday night in Baldwin City.
Baldwin High and Eudora entered the game with 2-0 records in the district, but it was the Cardinals who left with the title. Eudora (8-1) beat Baldwin (6-3) 28-14.
"It would have been nice to have the home-field advantage Tuesday night, but we're probably going to rematch Blue Valley Southwest from last year. It sounds like they won their district. I have to give Eudora credit. They are big up front an they have tough players, who run hard. We had a tough time tackling them tonight."
Both teams advance to the 4A playoffs, which begin Tuesday. Eudora will play at home, while Baldwin will travel for its contest. Both games will start at 7 p.m.
On Thursday, Eudora scored touchdown on three plays longer than 40 yards. The Cardinals broke runs of 41, 56 and 75 yards for scores. Baldwin had a long of its own for 68 yards by sophomore Chad Berg, who scored both touchdowns for the Bulldogs.
A 41-yard run by Eudora's Chris Pyle sealed the victory late in the fourth quarter. He scored with 3:08 remaining in the game, giving Eudora a two-touchdown lead.
Score by quarter
E — 14 0 8 6 - 28
B — 7 0 7 0 – 14
Scoring summary
E — Chris Pyle 56 run (Derek Webb run converted)
E — Webb 4 run (Pyle run failed)
B — Chad Berg 68 run (Austin Kraus kick)
E — Gabe Cleveland 75 run (Nick Becker pass from Webb converted)
B — Berg 2 run (Kraus kick)
E — Pyle 41 run (Webb run failed)