Breast cancer run/walk helps build awareness of self-examinations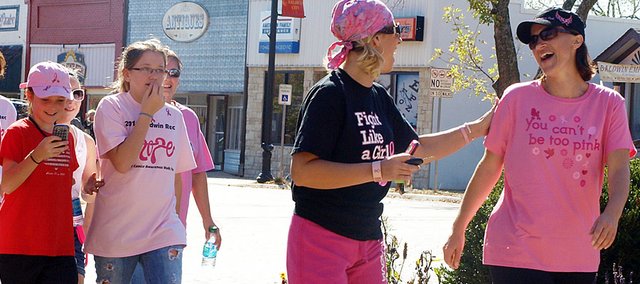 Baldwin City resident Errin Steffen had never done a self-breast examination before. While taking a bath, she found a lump on her chest on Oct. 28, 2009. She made a doctor's appointment and was diagnosed with breast cancer 15 days later on Nov. 12.
Sunday, her and other members of the Baldwin City community gathered outside of the First United Methodist Church for the Baldwin City Recreation Commision Breast Cancer Awareness Walk/Run.
"I had breast cancer and just wanted to raise awareness because we never did until it hit me," Steffen said.
Debra McCullough, another breast cancer survivor, organized the event.
"I am a survivor and my mom's been fighting it for ten years so we wanted to do something to get involved," McCullough said.
About 50 people pre-registered for the walk, and others showed up the day of to register. Registration cost $15 per person or $50 for a family. The money raised from the event will go to the Susan G. Komen Foundation and the Lawrence Memorial Hospital Breast Center.
Everyone walking at the event got a t-shirt with their registration. McCullough also got over 25 sponsors for the event through sending out letters.
For donating $25 the sponsor received a t-shirt as well as their name on the back of the event shirt.
The walk began on Eighth Street and was three miles around Baldwin City. Participants could walk or run, however the event was not timed and emphasis was placed on raising awareness.
Steffen had participated in other cancer awareness walks such as Relay for Life but was glad to see a walk that was local.
"This is going to be an annual event so look for it next year at the same time. October is Breast Cancer Awareness Month so it'll be the third weekend of October," McCullough said.
Part of raising awareness for breast cancer is education and prevention.
Steffen said women know their own bodies and know when something isn't normal.
"Women should do self-breast exams every month. (My lump) was budding up next to my chest wall. If I had just went in for a normal mammogram they wouldn't have seen it," Steffen said.