Baker banquet serves food for thought on hunger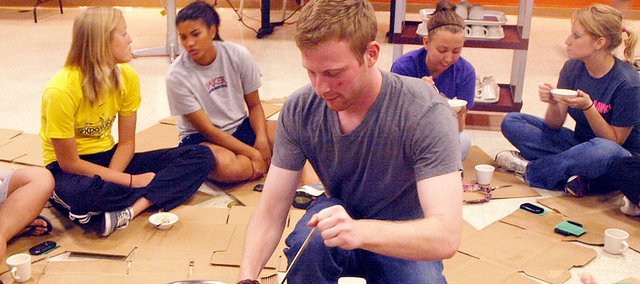 Baker University students, staff and faculty gathered Sunday in Allen Dining Hall for what they thought would be a typical banquet. But instead of a fancy meal, they were given food for thought instead.
The Oxfam International Hunger Banquet, hosted by Baker University student organization Baker Farm Hands, is meant to create awareness of the worldwide hunger epidemic.
Oxfam is an international organization whose mission is to provide relief for poverty, hunger and injustice by creating lasting solutions to these worldwide problems.
"Our goal is to raise awareness," Tanya Sieber, Baker Farm Hands sponsor, said.
As people arrived at the banquet, they were each given a slip of paper that labeled them as high class, middle class or low class and poverty-stricken.
The high-class population was seated at a set table and was served a full spaghetti meal. The middle class was served a small bowl of black beans and rice. Those labeled as lower class were forced to sit on the floor on cardboard boxes and had to serve themselves from a container of rice and water.
"In our culture we don't realize that we eat everyday or have silverware to use," Sieber said.
The separation of the groups was meant to demonstrate the large percentage of people that go hungry every day by making those who were lucky enough to receive a full meal feel guilty and uncomfortable, and those who were hungry understand how many feel every day.
"We should all feel a little uncomfortable about what's happening in the world," Sieber said.
Hunger is not just an epidemic plaguing countries in poverty, though. According to Oxfam, more than 44 million Americans struggle with hunger.
Even in Baldwin City, the Community Food Pantry has difficulties keeping its shelves stocked.
"You would be surprised at how many people go to the food pantry and who they are," Sieber said.
She said many working and middle class families have some type of medical emergency which causes them to either owe money for medical bills or puts them out of work.
Many times this causes families to make the difficult decision of paying the bills or putting food on the table.
"Everyone is just one car accident away from becoming one of those hungry people," Sieber said.
During the banquet Marta Chiappe, a member of the sociology faculty at the Universidad de la Republica in Uruguay, spoke about her experiences with hunger and how the people in Uruguay are affected by politics and control over agricultural land.
"I believe hunger and poverty in the world are created by politics, but in saying that, it also gives me hope they can change and alleviate hunger as easily as they create it," Chiappe said.
Oxfam Hunger Banquets are a part of GROW, which is Oxfam's campaign to build a more sustainable food system. The idea of GROW is the food system is broken, but if society makes changes to "reform bad policies, to preserve scarce resources and share them fairly," there will be enough food for those hungry and enough resources to feed future generations.
For more information on Oxfam International and the GROW campaign, visit the website: http://www.oxfam.org/