Baldwin City wins $100K in Take Charge Challenge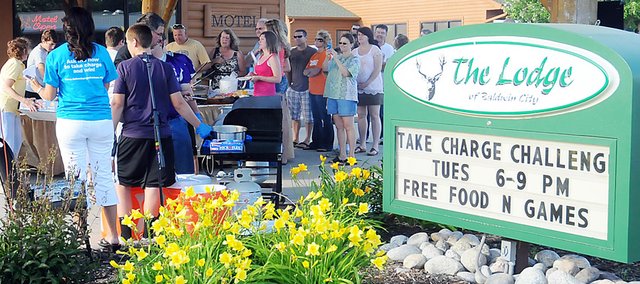 A friendly competition pitting Baldwin City against three other cities in northeast Kansas ― with $100,000 on the line ― ended Tuesday.
Baldwin City was announced by Efficiency Kansas as the Take Charge Challenge winner for the northeast division. Baldwin City was one of four winners announced for the energy efficiency contest that ran January 1 – September. 30. Baldwin City beat Ottawa, Gardner and Paola for its title.
"It's exciting," said Tina Rakes, Baldwin City's codes official and Take Charge Challenge coordinator. "We will have a banner and our big check to view at City Hall. We want to thank the whole community for helping us win this challenge. It's so exciting."
Mayor Ken Wagner was also excited about winning the contest.
"I was cautiously optimistic that we had pulled it off," Wagner said. "I thought we finished strong as we ended the program with a lot of energy audits and some other things. We had a good showing at the Bulldog Bash, too. So I was hopeful we were going to win, but when they announced us the winner, I was excited. It was a good feeling.
"The community really responded nicely to that whole issue of energy efficiency," he said. "We got a lot of momentum rolling as the contest progressed. A lot of people got energy audits or changed light bulbs or thermostats. It's what pushed us over the top."
The announcement of the Take Charge Challenge winner came Tuesday. A group of seven people representing Baldwin City went to the Expocentre in Topeka for the ceremony. City hall, USD 348 and business owners representatives attended the ceremony.
Several speakers talked about the contest and how much energy was saved throughout the contest. Posters and pictures from various towns were on display, too.
After the speakers were finished, the winners were announced. Colby and Fort Scott were announced as the northwest and southeast winners. Then came time for the northeast division.
"Oh my goodness, it was so nerve-racking," Rakes said. "I know my heart rate went up and my stomach tightened. Once we heard Baldwin City as the winner, everything else was a blur. It was a very rewarding moment for all of us."
The Baldwin City group walked on stage and received its large $100,000 check. They took photographs on stage, too.
"In the 13 years I've been here, I don't think we've won anything like that in a competition where everybody in the community pulls together," Wagner said. "I think that's a significant event for us. We saw the fruits of the labor pay off."
Baldwin City will receive $100,000 for the contest and that money must be spent on energy-saving projects. The city submitted a plan to Efficiency Kansas by July 1 and that plan detailed how the money would be spent if Baldwin City won.
"The projects are to benefit public facilities, so the community at large reaps the benefits of the efficiency savings," Rakes said. "There is criteria which the projects have to meet."
The first project will be to replace electric fixtures in all city-owned buildings with energy-efficient lighting. That will be one of the first projects.
Another project will be adding a solar panel to the downtown water fountain. The city also plans on making the crosswalk at Fourth and Ames streets solar powered, too. Wagner also plans to add solar panels to restrooms that will be built in city parks and that projects is estimated for 2012.
The final project will be determined on how much money is remaining. Those dollars will be used to replace the lights in the Baldwin Junior High School gym with energy efficient bulbs.
"It is exciting that we won," USD 348 Superintendent Paul Dorathy said. "A lot of people from the community were involved in that and we tried to do our part to help. The overall success of that was due to many people working very hard."
Rakes said the school district was helpful during the entire contest. Several Take Charge Challenge events happened at USD 348 functions, such as basketball games, schools and the Bulldog Bash.
"We want to thank all of the residents and the business owners," Rakes said. "We had a lot of business owners help us with this contest. I know Baker University and the Baldwin School District did a lot to help us win.
"Big thanks go out to Paul Dorathy and the school district," she said. "They allowed us to bring information, let the children participate in the Energy Bandit, let us come and speak at enrollment and other times and they helped spread the word about the contest."
The Climate and Energy Project (CEP), in partnership with the Kansas Energy Office (KEO), sponsored the Take Charge! Challenge from January through September 2011. The KEO, a division of the Kansas Corporation Commission, provided $1 million in American Recovery and Reinvestment Act funds to implement this year's Take Charge! Challenge.