Bulldogs advance to 2-0 in districts with win at
SFT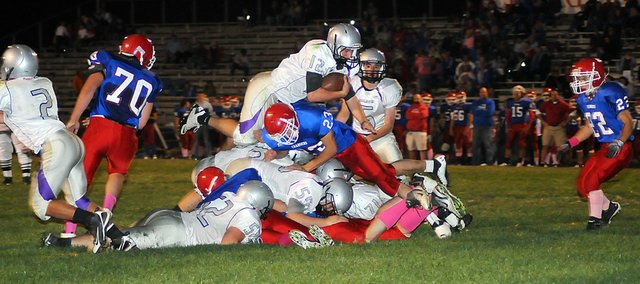 Photo Gallery
Baldwin High football at Santa Fe Trail
Baldwin High School's football team beat Santa Fe Trail touchdown 42-28, locking up a spot in the Class 4A playoff. It was the Bulldogs' final regular season road game. Baldwin led 42-12 early in the fourth quarter after outscoring the Chargers 36-6 since the opening drives.
CARBONDALE — Baldwin High School's football team responded to a quick Santa Fe Trail touchdown with 28 unanswered points en route to a 42-28 victory, which locked up a spot in the Class 4A playoffs, starting Nov. 1.
The Bulldogs led 42-12 in the fourth quarter before their defense gave up two late scores. Friday night's win sets up a Frontier League matchup against Eudora for the 4A district title. The game will begin at 7 p.m. Thursday at Liston Stadium in Baldwin City.
"I congratulated our team, because we're in the playoffs, we're sitting 2-0 right now in our districts and we're plus-26 on points," coach Mike Berg said. "It all comes down to Thursday night. It's what we play for. We have a chance to be district champs."
Santa Fe Trail scored on its second offensive play of the night, after Baldwin took the opening drive 75 yards in 13 plays for the touchdown. BHS answered with four touchdowns on its next five possessions. Three of those scores were on the ground, while the last one was a four-yard touchdown pass. Tyler Cawley led BHS with a pair of rushing scores and a passing touchdown.
The Chargers scored a pair of touchdowns inside the final eight minutes of the game to close the gap. Baldwin marched the ball deep into the Chargers' territory before fumbling the snap and losing possession. BHS ran the final 30 seconds out after recovering an onside kick.
Score by quarter
B — 14 14 7 7 - 42
SFT — 6 0 6 16 – 28
Scoring summary
B — Tyler Cawley 1 run (Austin Kraus kick missed)
SFT — Chaz Wright 70 run (Brandon Ball kick missed)
B — Chad Berg 43 run (Berg run good)
B — Cornell Brown 6 run (Kraus kick)
B — Cawley 1 run (Kraus kick good)
B — Clayton Duncan 4 pass from Cawley (Kraus kick good)
SFT — Blade Wright 38 pass from Alex Dahl (Dahl pass failed)
B — Mark Harman 1 run (Kraus kick good)
SFT — TJ Kemble 63 pass from Dahl (Garrett Abel pass from Dahl good)
SFT — Ball 1 run (B. Wright pass from Dahl good)