Weather, long parade highlight annual Maple Leaf Festival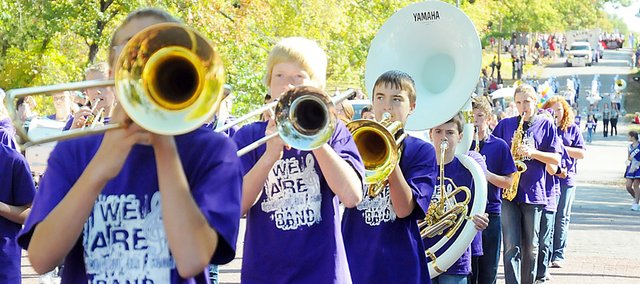 Photo Gallery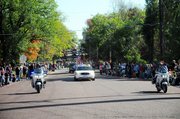 Maple Leaf Festival grand parade
Another near-record size crowd came into Baldwin City to enjoy arts, crafts, food and a warm fall weekend during the 54th annual Maple Leaf Festival.
Like every year, Baldwin City was buzzing during the third full weekend of October. Thousands of visitors flock to town for the annual arts and crafts festival that also features a quilt show, carnival, petting zoo and a weekend full of country music.
This year was no exception. Crowds were estimated at near record size, but slightly less than last year on Sunday. The sunny, warm weather helped attract a large crowd on Saturday.
"I thought we had a great crowd," said Maple Leaf Festival chair Amber Rhoden said. "I think it was comparable to last year, which was near record numbers. We had a few booths that were here on Saturday, but couldn't come back on Sunday, because they were sold out of products."
The festival committee tried to create more room on High and Eighth streets this year. Instead of grouping booths together down the middle of both streets, they set up a row of booths down the middle, which opened up more space for visitors to walk.
"Last year, we had booths in quads," Rhoden said. "We had four of them together in the middle of the street, but that didn't give enough room for people to walk down High Street. We wanted to spread that out and give more room, plus it allowed us to get emergency equipment downtown, if needed."
The opened streets were welcomed by visitors, especially after the grand parade Saturday afternoon. The annual parade is a main attraction of the festival every year and this year was no exception.
The 2011 parade was one of, if not, the longest ever. Parade chair Jeremy Rodrock said it lasted around 1 hour and 40 minutes.
"It was a long parade," Rodrock said. "It was the biggest I've been a part of and ever seen. I think the nice weather brought everyone out."
He said it was odd that the parade was near record length because this year isn't an election year. However, there were several new groups who participated in the parade.
"We had two new car clubs in the parade," Rodrock said. "We also had a dance group from an Ottawa and a drumline, which was cool, too."
This year's theme was Land of the Maple Leaf, which is based from the Land of Oz from "The Wizard of Oz." Only four groups designed floats for the theme. Douglas County Visiting Nurses won first prize for the contest. The Fourth Degree Knights of Columbus float finished second, while the Baldwin Junior High School cheerleaders placed third.
As always, the crowds headed toward the craft and food booths after the parade. Food lines were busy for hours throughout Saturday afternoon and into the evening as the crowd dispersed.
Hundreds of visitors came back to the festival on Sunday. However, the crowds were much smaller than the previous day.
"It was absolutely great," Rhoden said of the weather. "The weather couldn't have been more perfect."
Rhoden also said there were no major problems during the weekend festival, although a minor robbery was reported Saturday night from a couple of booths and several port-a-potties were tipped over Friday night before the festival started. Fewer dogs were reported at the festival this year, but another pet did make a brief appearance.
"I saw significantly less dogs than we've had in the past," Rhoden said. "We did have a macaw. We had to explain to the owner that birds aren't allowed either."
She also said both school parkings lots were at capacity Saturday afternoon. The Baldwin High School and Baldwin Elementary School Primary Center parking lots were used for off-site parking and visitors were bused downtown.
"It goes quick, but it's very much appreciated by the community," Rhoden said of the festival. "It allows the festival to come in for two days and then it's gone. It's a great event, but it goes fast."