Maple Leaf run attendance increases following largest year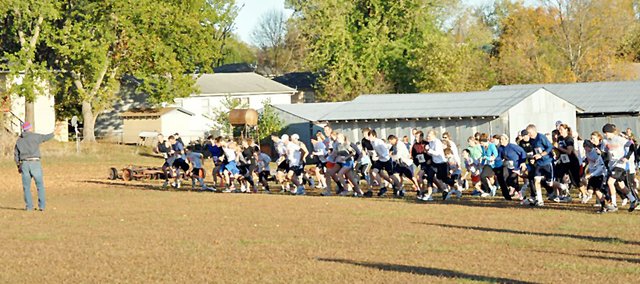 Baldwin City's Kit Harris wasn't sure it was possible to improve upon last year's Maple Leaf Festival Run, but it happened.
He organized the largest turnout for the event for the second straight year.
"It was a success last year, so we had a lot of returning runners," Harris said. "I also put the word out there to a lot of running websites and clubs. I thought we'd have a good turnout, because I had a good response from people."
This year's event had 133 runners, which is a few more than last year's run that had around 120 participants. In the 5-kilometer race, there were 46 men and 55 women, while the 1-mile kids fun run had 15 boys and 17 girls.
"We had a really good turnout again this year," Harris said. "The weather has been really nice for us the past two years. I was pleased to see 32 kids in the fun run, too. That's great to see."
Lawrence resident Benjamin Pease won the race in a time of 19:33. A pair of Baldwin High School graduates, Alex Johnson and Alex Beecher, were the second and third finishers of the race. They ran 20:11 and 20:19 in the 5K race.
Baldwin City residents Jill Boyle and Sarah Harris finished first and second in the women's division. Boyle's time was 21:28 and Harris ran 22:09 in the race.
The boys' division winners were Jacob Messinger (14-and-under), Johnson (20-29), Andy Norris (30-39), Pease (40-49), Jeff Beecher (50-59) and Charles Perry (60-and-over). The womens' division winners were Allie Sanford (14-and-under), Marie Cellitti (20-29), Boyle (30-39), Megan Wilson (40-49), Patty Ogle (50-59) and Laverne Deay (60-and-over).
"Everybody I talked to, said they ran their fastest time or right at their best," Harris said. "The weather was great, which helped, too. The course can be deceivingly hilly, but it can be fast, too."
Jacob Bailey, 10, won the boys' 1-mile run fun in a time of 6:28. Ethan Temple, 12, finished runner-up in a time of 6:37. Turner Thompson won the 8-and-under age group, running 8:45.
Kate Hockey, 11, edged out several girls to win the 1-mile run. Her time was 7:22. Kayla Kurtz, 11, was the runner-up in a time of 7:30. The other age group winners were Abbi Petterson (8-and-under) and Ambrynn Stewart (10-and-under).
"That was cool to have that many kids," Harris said. "The top runners had some great times for kids their age. It was fun."
Harris hopes to make the 2012 event bigger than this year's run.
"I'm definitely going to try and make it a big event," Harris said. "It's a fun part of the Maple Leaf Festival. The idea is to have lots of different activities to attract people to Baldwin City. This is just one more event on a busy weekend."