Local Boy Scouts troop remained busy during summer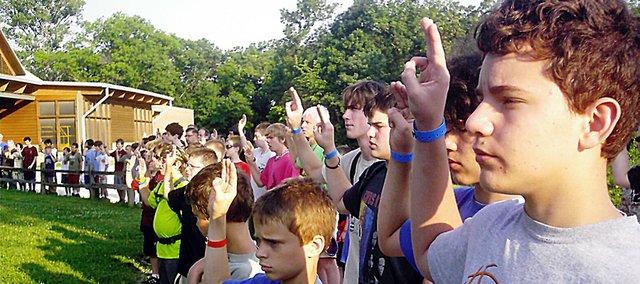 Baldwin City Boy Scouts had a busy summer, participating in two summer camps and a Colorado high adventure trek.
Troop 65 returned to the Theodore Naish Scout Reservation, near Bonner Springs, for the first camping session from June 5 to 11. This was the troop's 67th consecutive year, since 1944, at Naish. Troop 65 first camped at Naish in 1931.
The Baldwin contingent of eight Sscouts, three full-time scouters and three part-time scouters shared Delaware Campsite with Troop 351, the Purple Chickens of Shawnee.
The eight Scouts completed 24 merit badges and received recognition for other achievements:
• Scott Cromer: climbing, wood carving and leatherwork.
• James "Mac" Halpin: forestry, geology, leatherwork, shotgun, and mile swim patch.
• Garrett Hundley: climbing, geology, leatherwork and snorkeling patch.
• Ryan Hundley: citizenship in the community, citizenship in the world and climbing.
• Austin Kraus: fish and wildlife management, mammal studies, shotgun and archery.
• Alex Lundry: astronomy and weather.
• Ryan Wessling: archery, weather and astronomy.
• Matthew Winters: first aid and space exploration.
Four persons advanced in the Order of the Arrow, a national honors camping society within Scouting. Betty Lawrenz was inducted as a brotherhood member. Jay Hundley, Ryan Hundley and Scott Cromer were inducted as ordeal members.
Assistant Scoutmaster Jay Hundley was camp Scoutmaster. Assistant Scoutmasters Joe Bollig and Jeff Lundry aided him. Part-time leaders were Tom Farmer, Betty Lawrenz, and Robert Lawrenz.
Although not part of the Naish summer camp contingent, during that week scouters Tom Farmer, Betty Lawrenz and Kirsten Shuck completed outdoor leader training.
Troop 65 sent a contingent of two scouters and four Scouts to a hot and humid week, July 17 to 23, at Camp Geiger, part of the Pony Express Council, near St. Joseph, Mo. Mosquitoes were plentiful.
Stephen Beegle concentrated on the high ropes course at COPE (Challenging Outoor Physical Experience).
James "Mac" Halpin worked on citizenship in the world, citizenship in the nation, citizenship in the community, and communications merit badges. He earned the rifle merit badge and was tapped to become a brave in the Tribe of Mic-O-Say, an honors camping society.
Ben Foster worked on citizenship in the world, citizenship in the nation, and citizenship in the community merit badges.
Zach Garrett earned forestry, insect studies, archery, metalworking, leatherworking and weather merit badges.
Assistant Scoutmaster Ed Wasson was camp scoutmaster, joined by assistant Scoutmaster Robert Lawrenz. Wasson was tapped to join Mic-O-Say as an honorary warrior.
Six members of Troop 65 and six members of Venturing Crew 2065 joined for a trek from July 9 to 16 at Rocky Mountain High Adventure Base, south of Poncha Springs, Colo.
The Baldwin contingent first camped at Lake Pueblo State Park near Pueblo, Colo., and visited the Great Sand Dunes National Park on the way to RMHAB.
On Monday the contingent went whitewater rafting on the Arkansas River, passing through Brown's Canyon and class I to IV rapids. On Tuesday they entered the Arkansas again at Parkdale and experienced class II to IV rapids. The river was running very high, which made for excellent rafting.
On Wednesday they went on a two-day trek up Mount Shavano, elevation 14,299 feet. On the first day they hiked approximately two-and-one-half miles to base camp.
On Thursday the group arose at 2 a.m. to reach the summit before sunrise. Ryan Hundley, Garrett Hundley and Nate Clem reached the summit to see a full moon and the sunrise an hour later. Carrie Deitz, Abby Clem, Kenneth Graves and leader Kirsten Shuck reached the summit after sunrise. Jay Hundley, Andrea Baltzell and Michaela Starkey turned back due to altitude sickness. The weather for the climb was perfect, with no afternoon storms to chase the contingent down the mountain.
On Friday, the last day, the group went rock climbing. They faced four different climbs of 30 and 40 feet. Everyone did at least three of the four.
The Troop 65 contingent included adult scouters Jay Hundley and Kirsten Shuck; and Scouts Ryan Hundley, Garrett Hundley, Nathan Clem Kenneth Graves of Newton, Kan.
The Venturing Crew 2065 contingent included venturing advisers Rick Deitz and Diane Deitz; and venturers Carrie Deitz, Abby Clem, Andrea Baltzaell and Michaela Starkey.