Festival provides annual 2-day stimulus to Baldwin City economy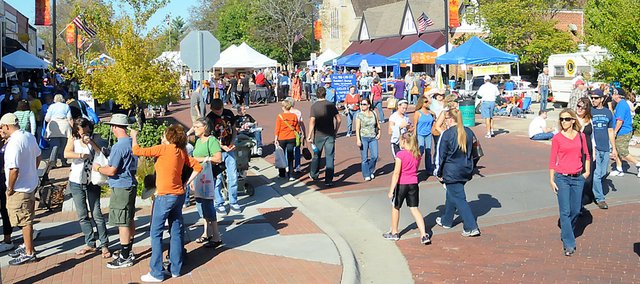 Thousands of people flock to Baldwin City for the Maple Leaf Festival every October, and local merchants say the weekend influx shows in sales.
"Even if it is just people using our bathroom or getting drinks, people definitely come in more," Subway employee Megan Reid said. "We don't know if they're from Maple Leaf or if they live here, but most people do buy food. It was definitely busier than normal."
Dollar General employee Jessica Peery-Moffitt guessed that 200 more people than usual made purchases in the store Saturday.
The people attending Maple Leaf not only help support the vendors at the festival, but take the time to browse the shelves of other Baldwin City businesses.
"A lot of the out-of-towners browse the store and buy a lot of our Thanksgiving stuff, a lot of Halloween candy — just things that they don't see at their dollar stores back in their town because all the stores carry different merchandise," Peery-Moffitt said.
Deb McMahon from Garnett was a Sunday visitor for the festival.
"We've been coming since my daughter was in a stroller," McMahon said. "It's a family tradition, and we come every year."
McMahon's daughter now lives in Baldwin City, so she visits outside of the Maple Leaf Festival. She said other than shopping at festival booths, she usually buys drinks, gasoline and food from the local shops.
McMahon isn't the only Maple Leaf Festival visitor from out of town who supports Baldwin's local merchants. Sisters Donna Yost of Topeka Shelia Pierce of Olathe try to attend the Maple Leaf Festival annually. Other than the festival, the women don't come to Baldwin City, however while here they do shop around.
"I've gone into (Quilter's Paradise) and bought stuff there," Pierce said.
To prepare for the extra customers, businesses scheduled extra people to work and made larger bank runs.
Sante Fe Market owner Frank Foye says he tries to make sure the store was tidier than normal to make a good impression on the out-of-town customers and because the surge in customers causes it to become more messy quickly.
"There is extensive use of the bathrooms," Foye said.
For some, attending the Maple Leaf Festival is their only visit to Baldwin City for the year. When they do come, local merchants see a noticeable boost in sales, which makes the Maple Leaf Festival not just a good civic event, but also an economic booster for the city.