Photo Gallery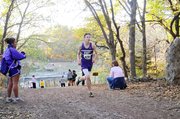 Baldwin High School's cross country teams competed at their annual league meet. The girls' team won the league title, while the boys placed second.
LAWRENCE ― The Baldwin High School girls' cross country team continued its dominance on the Frontier League Thursday at the Rim Rock Farm.
For the 14th time in the past 15 years, the Bulldogs won the league championship. Meanwhile, the BHS boys finished runner-up to De Soto.
"I was really happy with both teams," coach Mike Spielman said. "I thought they both did a great job. This is the part of the year we aim for each year. We ran really well at league and it's the first of our three important meets, so I'm really happy."
The BHS girls' squad scored 30 points, which more than doubled runner-up Paola, who scored 63 team points. De Soto finished third with a score of 80.
Baldwin's top seven runners finished in the top 15 and medaled at the meet. Two more Bulldogs earned all-league honors, as the top 21 runners were divided into first, second and third team all-league runners.
"We've had a really nice run on the girls' side," Spielman said. "They've done a terrific job year after year of running well at the league meet."
Sophomore Katie Jones continues to lead Baldwin. Jones finished between two Paola runners to place second. She finished the 4-kilometer course in a time of 16:41.03.
The next five Bulldogs finished between the fifth and 11th spots. They were senior Abi Hartzell (5), junior Kaitlyn Barnes (6), junior Sienna Durr (8), senior Carol Whaley (9) and senior Elizabeth Sigvaldson (11).
Sophomore Libby Verhaeghe was the seventh runner and she placed 15th. Juniors Elena Watson (16) and Glenn Kelley McCabe (17) also earned all-league honors. The Bulldogs' time gap from second to ninth runner was 57 seconds and it was 1:07 from first to ninth.
"It's pretty exciting to win league as a team my first two years," Jones said. "This is our first step of our three big races to end the year. We were really packed together today. Our top seven medaled, so we did a great job today."
On the boys' side, the Wildcats scored 34 points to win, while Baldwin (58) edged out Paola (61) for second place. Baldwin was without its second runner, senior Brian Wright.
"We knew going in that even with Brian that De Soto was going to be tough," Spielman said. "With Brian not running, we knew it would be extra tough, but the guys responded and ran well. We knew Ottawa and Paola would be the two teams to beat, so they did a nice job of getting ahead of them."
Sophomore Ethan Hartzell and senior Tosh Mihesuah led the Bulldogs. They finished second and third in the 5-kilometer race. Hartzell's time was 16:53.9, while Mihesuah ran 17:35.17.
"I'm ecstatic," Mihesuah said. "I knew Angel and Ethan would be way up there, so my goal was to get third and be in that no-man's land. I'm pretty excited, because I finally got first-team all-league."
The next five Bulldogs were freshman Joe Pierce (16), sophomore Tucker Clark (18), junior Colton Horne (11), senior Cory Stephens (27) and junior Acea McFarlane.
"I was pretty happy we pulled out second without Brian," Mihesuah said. "We've all been training really hard and it paid off. With Brian gone, everyone knew they had to step it up and they did. We got good races out of everyone."
Baldwin will next run Saturday when it will compete at the Class 4A regional at Wyandotte County Park. The Bulldogs will go up against runners from Atchison, Basehor-Linwood, Bishop Ward, Bonner Springs, De Soto, Eudora, Jeff West, Perry-Lecompton, Piper, Santa Fe Trail, St. James Academy, Spring Hill, Sumner Academy, Tonganoxie and Topeka-Hayden.
The top three teams in each race qualify for state, as do the top 10 runners, with the possibility of additional individual qualifiers. The girls run at 3 p.m. with the boys following at 3:30 p.m.
"This is the only place these guys and girls have known for regionals," Spielman said. "We're familiar with the course, but we'll have some tough teams to compete against."