Baker University celebrates centennial of Taft's visit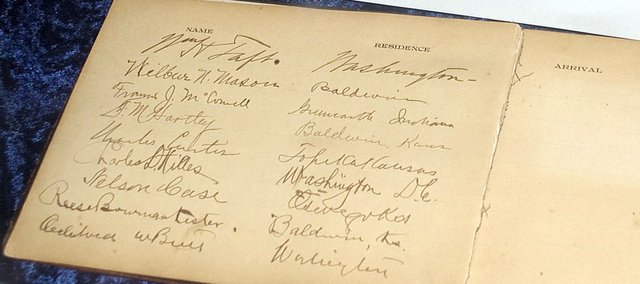 During Baker University's 153 years, the university has made connections with six U.S. presidents. Tuesday at its annual fall convocation, Baker celebrated the 100th anniversary of President William Howard Taft's visit to the campus.
"It was just a big event for Baldwin to have a U.S. president come down," said Jenny McCollough, Baker University director of archives. "Prior to that, the closest we really had was that Theodore Roosevelt came by on a train, but he never actually got off the train."
Taft's visit to Baker was the university's first real visit from a president, but Baker also has other presidential connections, including a monetary donation from Abraham Lincoln and a message from Dwight Eisenhower.
Leonard Ortiz and John Richards, assistant professors of history, each spoke during the convocation ceremony and explained the historical importance of Taft's visit, which coincided with the inauguration of Wilbur Mason as university president.
Ortiz said William Markham, who was a professor at Baker, invited Taft to speak at the inauguration and Taft accepted the invitation. When he arrived, 1,400 residents waited for him. Upon seeing Baldwin City, he dismissed his secret service contingent, saying he would not need them in this "peaceful Midwestern village."
Taft stayed at Markham's house, now the Zeta Chi fraternity house, attended First United Methodist Church and spoke at Taylor Hall, which is now Mabee Hall.
As a part of Mason's inauguration, Taft addressed the university with a speech about world peace.
"At the time there wasn't really anything big going on, but you could start to see a little bit of the problems that would cause World War I," Ortiz said.
Although Taft's address told an important message, it was his visit, not his speech, which was an important part of Baker's history.
"It was more of an event of President Taft is here than President Taft is going to tell us about this or that," McCollough said. "They probably just said, 'You're the president, you know what issues are important, make a speech.'"
The historical visit is marked on Baker's campus with what is known as the Taft Bridge.
"The story goes that he was too big to walk across the bridge, so instead of the wooden bridge they built a new concrete one that would be stronger," McCollough said.
Along with the bridge, the university has the signature of the former president in a guestbook. Those who visited with him also signed, including U.S. Army Maj. Archibald Butt, who later went down with the Titanic but is credited with efforts that saved lives as the ship sank.
McCollough said if a president today were to visit Baker University, there would be some differences from Taft's visit.
"There'd have to be a lot more security. I'm always surprised when I hear about President (Barack) Obama going and speaking at a high school or someplace, so it seems to be still a common occurrence. We'd also probably have to have a lot more parking," McCollough said.
Taft's visit to Baker University was not only a visit to the university by a U.S. President, but a visit by a man who represented Baker University's ideals.
"Taft may have been soft-spoken but he was truly a man of integrity who was guided by his words that he professed," Ortiz said.